This article covers three areas in hiring talent in the early stages of a startup's life, with case studies from Sangeeta Aravind's many experiences working with founders to build their early team and hire top leaders, and some of our founders' solutions to navigating the highly competitive startup talent market in Southeast Asia. 
Highlights
Find your fit in the details.

Hire outside your comfort zone.

Test the initial relationship with small, clear milestones.
The first is always the hardest, but the most crucial
For a startup, the first few hires will be the most crucial. You might have a brilliant idea but without a capable and aligned team, it will be hard to bring that idea to life and action. What is more, these early hires will oftentimes be the leaders who will form teams of their own and build out their respective functions as your company matures. 
At a high level, founders see this early-stage hiring exercise as a matter of posting jobs across multiple platforms. It comes to no surprise then that still 1000 applications later, they remain unconvinced or not confident enough to make that first hire.
There are a lot of common factors that the founders will keep hearing on repeat when they start talking to candidates:
Cost 

Timing 

Full-time commitment

The applicants are aspiring founders themselves
Sometimes it is frustrating and I have spoken to founders who wonder whether they will ever be able to hire someone that matches their criteria. 
Trust me, it is worth the wait because wrong hires can be equally disastrous. To be honest, just like everything else in life, there is no such thing as a perfect team. The only way to get there is to work with them. 
Drawing from the experiences of working with many founders to build out their early teams and hire for C-level executives, I outline three areas of the hiring process that tend to be overlooked but are immensely important to consider or have in place even before you start to hire: 
Crafting a JD / Pre-sourcing: Simple but clear documentation of who you are looking for
Sourcing: Expand your top-of-funnel beyond your comfort zone and "biases"
Evaluation / Probation: Test the relationship with small, clear milestones
But apart from outlining these "blind spots", I also share some ways to stay on top of these and case studies from my experiences and conversations we've had on our podcast with founders.

(1) Find your fit in the details
Know what you need in the role and curate key descriptors of your ideal hire. What are the non-negotiable skills and qualifications for this role? What are skills or qualifications that are just good to have? 
This is not an easy job to do and nothing is set in stone but it's good to jot down key elements of your team. To keep it clear, jot down 3 things:
Experience and Expertise 

What should have they achieved in previous roles? 

What skills must they have? (split non-negotiables and good-to-haves)

Personality and Culture fit

What kind of mindset do they need to grow and find success in this role?

What kind of people will they be working with? 

Aspirations and Goals (Both long term and short term)

What would they want to achieve through this role?

Where would they want to be 5 to 10 years from now? 
These early hires are people who will directly impact your ability to build your business and get it from zero to one, so paying attention to the details will save you a lot of time. These details also make the foundation for the job description and any related employer branding and collaterals you will produce around a role. 
But then you might ask yourself, how will I know what I want as I am just getting started and everything is fuzzy and unclear? 
When in doubt (and this doesn't just concern hiring challenges), ask for help. Your investors and peers who have already gone down that path are excellent sources of information and advice.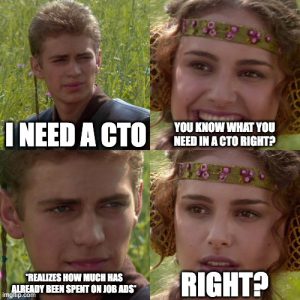 Case Study 1: Playbooks are half the battle won
I have worked with a few founders who have hired candidates from job posting responses to save time and money, only that after a few months they lost double the money and precious time. When we spoke about this problem that needed to be addressed and fixed — always quite urgently because we have lost time — we went back to the basics, brainstorming for hours to create a playbook for the first few hires depending on the gaps and skills, personality and the progression of the role as they scale. 
The playbook will change depending on growth but your ground rules of engagement will stay because you have worked on and internalized it. That will gradually and systematically define your culture. 
While it may seem like time not spent actually acting upon the contents of the playbook (i.e. sourcing), having clarity through documentation will reduce the guesswork and ultimately costs of sourcing the right talent. 
(2) Hire outside your comfort zone
References and word of mouth are great, and sometimes the best people come from there but don't overlook the aspect of speaking to people out of your comfort zone and look for diversity and skills. 
Having a choice of candidates (beyond your first and second-degree network) to speak to can sometimes alter your decision. It's all about having as wide of a top-of-funnel as possible, while still adhering to the details (and ideally playbook) you've laid down. 
There are some typical hiring "biases" I've seen that reduce the visibility of founders when looking for the right people. These "biases" sound great at face value but should not be the decision-making factor — again, going back to the previous point about knowing what you need for the role and the company. Ultimately these "biases" are limitations. Don't hire solely because the candidate is: 
a great guy

a friend of a friend

an old classmate whom you have known for a long time

someone you can train

is a jack-of-all-trades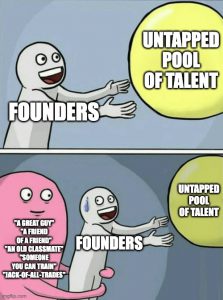 Case Study 2: Hire your customers
In our podcast with Yada Piyajomkwan, CPO and co-founder of Indonesian stock trading unicorn Ajaib, she talks about the "hidden gems" in product and engineering talent she's found in Indonesia amidst all the challenges of winning such talent in the market. This just reinforces the idea of going beyond the "biases" and your comfort zone when looking for talent. In this case, hiring product and engineering talent who are also the target users of their app had the added benefit of strengthening product ownership. 
"I have also heard, and I think it goes around in the market, that it's hard to find engineering talent in Indonesia, [especially] product and engineering talent. I think that so far in my experience, there is amazing engineering and product talent here. There are a lot of hidden gems, actually. 
The only thing that you need to do is you need to find them at the right place and then give them something impactful that they want to work on. Indonesians are very, very driven by impact and what they're able to create. And so as long as you have that for them, we actually experienced many, many amazing engineering and product talent in our team.
First of all, to us, it's not about their resume as much as what they're looking to do and their actual skill sets, right. So we don't go after, you know, only the top university, top companies. 
And I think secondly, we observed that people who are attracted to us and what we're doing in our product are people who are investors, stock traders, people who have been frustrated by the solution that they were using. And they were like, "If I could really build this, I would have done it in a way that I really love." 
And I think that's why you also get the ownership, because they are like, "I'm a user and I'm going to build something for myself." And they also represent a huge group of millennial investors, right. And so that's how we've been able to get them."
Case Study 3: Hiring remote-first
Another way to expand your top-of-funnel is to be remote-first as a company. More companies over the past few years have made this shift with the pandemic accompanied by a greater selection of tools for teams to collaborate across cities, borders, and time zones.
Todd Schweitzer, the CEO and co-founder of pioneering Southeast Asia open finance company Brankas shares on our podcast with him how they were able to expand their selection pool beyond major city centers and just like Yada in the previous example, find "hidden gems" with engineering talent, which was critical for them to build a team that needed to be engineering-heavy. 
"First off, Brankas has been remote-first from day one. I think our biggest advantage with being remote-first by far is that we can hire outside major city centers. And this is something that Ken and I, my co-founder and I were aligned on from the beginning, which is, the majority of our organization is our engineers. And there are phenomenal engineers found outside Jakarta, Manila, Singapore, and Bangkok, and some of our best engineers today indeed are in non-capital cities. Or in fact, during COVID, they've gone back to their family province. One of our top senior engineering managers is in rural Thailand. 
If we were centralized, we would not have access to these leaders. And so an important part of how we approach [this] from a first-principles point of view is we want to find the best talent in Southeast Asia that can serve the whole region. And for us to have maximum flexibility, to find the best people we need to be looking outside of a single city, it's a false limitation.
And so, that's how we're going about it, finding the key hires regardless of what city they're in, as long as they can work within our time zones, which is roughly kind of south Asia through east Asia, that we have the absolute best talent that's committed to the open finance and financial inclusion agenda. So far so good, but we have a lot more hires to make." 
(3) Test the relationship with small, clear milestones
You have hired the right person for the role, now what? Create deliverables that are small and clear to test the relationship. 
Unlike marriage, this is a bit less complicated. You might find that the candidate is exceptional in deliverables but is not a team player or he gets along fantastically, but has wide gaps in skills. A short-term project is a good way to test and part ways if things don't work and the investment is smaller. An equally importantly but less obvious implication is that it also gives the candidate a taste of what to expect working in the role.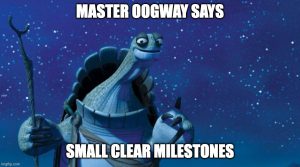 Case Study 4: Testing the waters with a new hire
I was once helping a founder who was hiring a COO for an edtech startup. We interviewed a number of people. Some were great on skills but lacked commitment; some the reverse. After weeks of scouting, we found a match but we decided to give time to assess the candidate.
The team sat down to create a project-based short milestone which was a very crucial part of the business and which the candidate claimed to have prior experience on. We discussed it mutually and reached a consensus on a timeline for the deliverables. 
This gave us 2 things: 
Any hesitation that we could sense from the candidate to get this done. That would be a red flag for us.

The candidate had ample opportunity to show his or her best side as it is a small milestone and work with the team and founders to get a better sense of the business and vice versa.
This was a huge success, the candidate not only delivered, but delivered more than what was expected, got along with the founders famously and is continuing to ramp up with more responsibilities and ownership.
These areas seem pretty intuitive in hindsight but can be easily missed in the founders' hustle to cover a lot of ground and spread their focus thin across many aspects of growth, especially in the early days of the company. 
Before we head into the article — are you a product leader looking for your next venture to build and grow? CEOs of some of Southeast Asia's most impactful technology startups are looking to meet with high-caliber product leaders like yourself. Connect with me on LinkedIn and I would love to introduce these opportunities to you. 
***