From product development, underwriting, distribution, sales enablement, and customer self-service, the insurance industry is going through a transition. But in Southeast Asia and India, the pace of digital distribution has accelerated through digitally native ecosystems. Unless large insurers use insurtech solutions to improve customer interactions by creating data-driven models, they could lose market share to newer, digitally-native vendors. 
At Symbo, we have a firm belief that as we continue to innovate & disrupt, it's important to note that we're in this journey to work with incumbents rather than looking to displace them. Established in 2017, Singapore-based Symbo's sophisticated InsurTech platform seamlessly supports agents, third-party administrators (TPAs), brokers, corporates, and insurers in the purchase, distribution, and administration of insurance across India and Southeast Asia. 
Digitizing the insurance value chain 
There were two big impacts to the insurance distribution post-COVID. First impacted was the premium collected via new customers or business as well as premiums collected due to the movement restrictions. Second was the Point of Sale (POS) channel which is largely dominated by agents as the in-person meetings were also restricted. 
Due to this impact on premiums and POS channels, insurers have had to embrace tech and digital as the essence of their value propositions and core differentiators to stay ahead of the game. 
Be it enabling the agent channel to operate in a more digital post-pandemic world or to tapping into the world of affinity partners and ecosystems, Symbo has been at the forefront of driving change through technology essential for success in the industry today. 
Symbo's notable engagements include AXA Affin General Insurance Berhad (Malaysia), PM Care (Malaysia), Bajaj Finserv Health, and many more leading corporates, insurers and national retailers. The combined technology platform empowers over 80,000 agents and 45 technology licensing partners, supporting over USD 100 Million in annual gross written premium (GWP) across India, Malaysia, Singapore and Indonesia. 
From lead generation, managing meetings, generating quotes and proposals to KYC and policy generation and claims management, Symbo has digitized the entire value chain in a seamless manner. This has brought efficiencies of scale to a traditionally high-friction business impacted by COVID. 
Beyond agent-led distribution
Insurance in Southeast Asia and India is still primarily sold through traditional channels like agents, and requires extensive paperwork to be filled in. The associated costs of this are added to the premiums, leading to higher prices. 
Awareness of insurance for goods and services has increased quite significantly post-COVID, especially around goods being bought online and around the logistics required to deliver these items. Ecommerce players and online marketplaces have been key to driving awareness of insurance through bite-sized insurance products being added to ecommerce sales. 
Be it physical goods or other services, these bite-sized products are in a way educating the audience at scale. And this trend has impacted offline and physical retail too. As a result, insurers now have to prepare their distribution strategy focused on near- and long-term implications of this shift to phygital (physical + digital) or O2O distribution. 
We saw this first-hand when we worked with India's biggest eyewear retailer to add point-of-need offerings (e.g. accidental damage insurance for spectacles at the time of the purchase) to capture a massive opportunity: (a) introduce a new fee-based revenue stream, (b) increase their Average Order Value (AOV), and (c) build more customer loyalty, and thus Life Time Value (LTV). 
Enabling incumbents to go phygital
Within the last 2 years, Symbo has been selected as a key partner by leading Insurers and Ecosystem / Brands to build and manage scalable, compliant & robust insurance solutions by: 
creating and optimizing agency networks for distributors to enhance the entire customer journey from lead generation to conversion and retention (e.g. creating gamified engagement through lead generation, upselling and cross-selling modules, using machine learning in real-time to measure & monitor the performance)

enabling insurers to be flexible and selective with deployment partners using Symbo's modular and interoperable platform

enabling clients to better customer behavior by identifying and leveraging data
These solutions bring speed & efficiency to both insurers and retailers allowing them to build products faster & distribute them in a frictionless manner.  This helps insurers address awareness and accessibility issues that drive penetration through a digital-first channel at scale.
***
Insurers are now rethinking their product propositions and revising how to best combine local consumer digital behavior as well as remove friction points from distribution. Building segue and next best product strategies around areas such as bite-sized products, microinsurance, health to their existing products could drive significant demand. As a result, platforms such as Symbo would help incumbents enable modular product creation, which is being seen as a huge trend, in high growth markets such as Asia.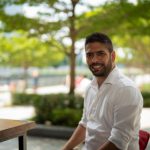 Adrit is the co-founder and co-CEO at Symbo, one of the fastest growing insurtech's in the region. His focus is scaling the technology platform globally with partners across India, Singapore, Malaysia, and Indonesia. The platform supports agents, TPA's, brokers, corporates and insurers in the seamless purchase, distribution and administration of insurance across India and Southeast Asia.
Prior to joining Symbo, Adrit brings over 16+ years of experience having worked with Global insurers across multiple markets and most recently leading a health-tech start up (Vivant) which was merged in to Symbo.
***