Last November 30, at the annual Horasis Asia Meeting 2020, our founding managing partner Yinglan Tan joined a panel on "Enhancing Asian Economic Development Post-COVID" alongside Asia Growth Research Institute (AGRI) President Tatsuo Hatta, Moody's Chairman Dr. Hank McKinnell, GITI Group Vice Chairman Cherie Nursalim, and Huawei Carrier Business CTO Paul Scanlan, moderated by NHKNews Editor-in-Chief Miki Ebara.
Highlights
Reversal of influence from West to East motivates greater regional cooperation.

Economic cooperation and collaboration in Asia are defined by competitive diversity.

Diversity engenders the democratization of innovation, which can lift economies out of poverty.

COVID19 is a Sputnik moment for work, education, and healthcare, but for technology to be transformative, education (i.e. communication) is key. 
COVID19 has changed the world, in more ways than one. And while vaccines are slowly but surely getting rolled out and shipped across the world, much of what has changed over this past year is expected to stay even beyond vaccination of the general population, from the greater adoption of digital services to new behaviors dealing with pandemics. 
As AGRI's Tatsuo Hatta put it, "Normalcy will return to Asia before long," says Mr. Tatsuo Hatta, but "COVID19 has changed certain aspects of our lives irrevocably." 
For Moody's Dr. Hank McKinnell, the unique challenges that have moved into the global spotlight this year will continue to be frontline issues in the years and decades to come. "Even with the vaccine, I don't think we get over this problem in months or years. I think we're fighting this problem for decades…the drag on the economy [will be] long-lasting," says Dr McKinnell. 
Reversal of influence motivates greater regional cooperation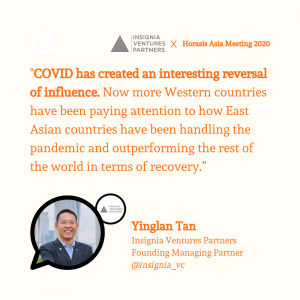 One significant change (and arguably, challenge) coming out of the COVID19 is (East) Asia's new role on the world stage. Yinglan says, "COVID has created an interesting reversal of influence. Now more Western countries have been paying attention to how East Asian countries have been handling the pandemic and outperforming the rest of the world in terms of recovery." 
In Southeast Asia, we see how Vietnam has come out of the crisis as the only country apart from China to see positive GDP growth. And the World Economic Forum's annual summit announced its 2021 venue to be in Singapore. 
Even then, among the countries in this East Asia bloc, China easily pulls the most weight, creating a gravity well of influence and economic growth within the region. "China is the economic engine of Asia, maybe [even] the world. To be successful in Asia, the answer is to link your wagon to the engine of successful growth," says Dr. McKinnell. At the same time, for reasons beyond COVID19, China has also been facing increasing tensions with other large markets in the neighborhood, from the US to India. 
The experience of the region in tackling the pandemic, as well as the relative "isolation" China has been put under, provides greater motivation for countries in East Asia, especially ASEAN, to strengthen cross-border cooperation. 
"In spite of the changes and challenges hoisted upon the world by COVID, the experience in tackling the pandemic has opened up enhanced…communications in Asia…" – AGRI President Tatsuo Hatta
Economic cooperation in Asia is defined by competitive diversity
Cross-border cooperation means trade. "It's trade that creates wealth…Moving forward, it will be important to have broader trade agreements beyond Asia…The benefits of freer global trade outweigh the negative aspects," says Dr. McKinnell. 
Recent agreements like the recent RCEP are a step towards this direction, but at the same time, it's important to recognize that "many economies in Asia are more competitive than they are complementary," as Dr. McKinnell put it. 
"Moving forward, it will be important to have broader trade agreements beyond Asia" – Moody's Dr McKinnell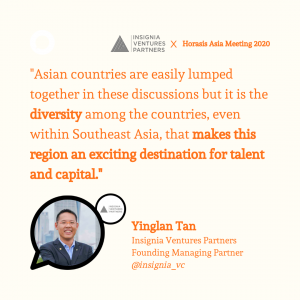 This is where diversity across Asia comes in. "Asian countries are easily lumped together in these discussions but it is precisely the diversity among the countries, even within Southeast Asia, that makes this region an exciting destination for talent and capital," says Yinglan. "We see this diversity in terms of culture, industries, and even regulation as a long-term advantage for the region."  
And this diversity engenders new forms of business model innovation (e.g. banking for the rural economy, social commerce) and new use cases for technological innovation (e.g. contactless car purchases, AI-powered insurance). 
Rather than "combining" different cultural viewpoints, regional cooperation should be defined by nuance and flexibility to embrace diversity. The kind of democratization of innovation happening in Asia, whereas before it was simply confined to the Silicon Valleys of the world, is something that can positively impact other regions globally.
According to GITI Group's Cherie Nursalim, this democratization of innovation can also contribute to China's shift away from poverty. "This year China came out of poverty, 10 years ahead of schedule…[because] they prioritized rural digitalization over urban…"
"This year China came out of poverty, 10 years ahead of schedule…[because] they prioritized rural digitalization over urban…" – GITI Group Vice Chairman Cherie Nursalim
The Sputnik moment
COVID19 has made it clear how important economic cooperation moving forward. "The ability to work across boundaries around the world" is important, according to Dr. McKinnell, and "utilizing tech accelerated that trend of globalization by 20 years." 
And while technology will continue to play a greater role in regional and global cooperation. "2020 is a Sputnik moment [with] work, education, and healthcare from home…if you want to transform industries, one of the key things is technology…but cannot do these things without…education, collaboration, and trust," says Paul Scanlan.
For technology to be truly effective, however, education is key. And education doesn't just refer to formal instruction, but being able to communicate the real value of technology to the people and communities it is meant for. Paul shares what he learned from years of experience introducing Huawei's telecommunications technologies to communities around the globe. "[The] challenge was not technology, it was the art of communication." 
"[The] challenge was not technology, it was the art of communication." – Huawei Carrier Business CTO Paul Scanlan
***
For more notes on past events, head to this page. We also cover events our team is at on our Twitter and Instagram.
Paulo Joquiño is a writer and content producer for tech companies, and co-author of the book Navigating ASEANnovation. He is currently Editor of Insignia Business Review, the official publication of Insignia Ventures Partners, and senior content strategist for the venture capital firm, where he started right after graduation. As a university student, he took up multiple work opportunities in content and marketing for startups in Asia. These included interning as an associate at G3 Partners, a Seoul-based marketing agency for tech startups, running tech community engagements at coworking space and business community, ASPACE Philippines, and interning at workspace marketplace FlySpaces. He graduated with a BS Management Engineering at Ateneo de Manila University in 2019.
***