Indonesian wholesaler-centric digital enabler platform CrediBook recently announced its US$8.1 million Series A, fresh from Y Combinator, to double down on their wholesale marketplace proposition, CrediMart or the "Faire of Indonesia." This case study dives into what startups can learn from their expansion into CrediMart and the implications of this for the business. 
Highlights
Navigating growth through progressive product-market fits are not siloed efforts. One product-market fit

can

lead to another, helping each other scale and be more effective for their specific use cases, essentially creating what we'll call "compound product-market fit." 

CrediBook achieved this "compound product-market fit" to great effect with CrediMart, as the case study discusses below. 

With 200K wholesalers in Indonesia and the government aiming to digitize 30 million SMEs in the next few years, CrediBook and CrediMart are just the beginning. 
When talking about product-market fit in the context of building startups, we usually refer to it in singular, as if it's a single hurdle to be crossed or a single door to be opened that ultimately answers all the problems of the company. 
But as we've discussed with some founders previously in this rare Clubhouse session last year, after the first PMF, there's the second, third and beyond. Whether it's because the company is catering to more pain points along the customer journey or evolving the core product itself as customer behaviors and preferences shift, PMFs are steps in a never-ending staircase of growth.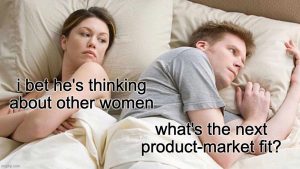 But what we've learned from working with companies like CrediBook is that navigating growth through progressive product-market fits are not siloed efforts. One product-market fit can lead to another. These products ultimately help each other scale and be more effective for their specific use cases, essentially creating what we'll call "compound product-market fit." 
In this article, we cover the case of CrediMart, the wholesale marketplace launched by SME digital enabler CrediBook as they zeroed in on the pain points experienced by wholesalers amidst the pandemic. 
***
Wholesaler Woes
Amidst the initial economic impact of the pandemic on Indonesia, wholesalers in Indonesia relying on offline sales (which is to say, many of them) saw their sales volumes drop by an average of 20%. This only exacerbated the challenges of handling offline sales, which involve manual stock management prone to human error and long queues in-store. Having only offline channels for sales meant a limited customer base that shrunk even further with social restrictions. 
The impact of the pandemic on offline wholesalers also locked them out of being able to afford payment flexibility for their retailer customers, which would have been able to significantly slow or reduce the drop in sales. As Mr. Sihaloho, a wholesale owner in Bandung, West Java put it, "To continuously manage cash flow, we have no capacity to provide buy-now-pay-later (BNPL) payment for retailers."
As offline wholesalers reeled from the shock to their cashflow, at the same time, there was an Indonesian startup offering a digital bookkeeping app to help SMEs manage their cash flow: CrediBook. While the app's features cater to a wide range of SMEs, CrediBook's bookkeeping app found a lot of adoption among these offline wholesalers, who saw an easy-to-use tool to upgrade their recordkeeping efficiency, which in turn would enable them to access much-needed financing amidst the pandemic as well. Specifically they help SMEs generate financial reports in less than five minutes, which has also sped up approval processes for micro-loans from financial institutions.
Beyond the tip of the iceberg 
After launching their bookkeeping app in 2020, CrediBook made it a point to talk to their users frequently. With the company's founders having backgrounds in building products for SMEs with the likes of Payfazz, Kudo, and Traveloka, they were already well-acquainted with the reality that pain points for these business owners are usually like an iceberg. It's easy to see and obsess over solving the tip but there's potentially a lot more compelling unaddressed issues beneath the surface. 
True enough, CrediBook discovered that there was an even more pressing problem for their wholesaler users especially as the pandemic's impact took hold of their cash flow (important to note at this point that CrediBook's bookkeeping app is able to track this cash flow digitally).   
As CEO Gabriel shares on the podcast, "When we [were growing] Credibook, we [were talking] to users frequently. So we talked to them: what are your pain points? What is your main problem? And most of them said that bookkeeping is not their main problem. 
Although it is a pain point for them, their main problem usually revolves around transactions during the pandemic, especially [when] they [make] orders or receive orders via WhatsApp or online, and they need to capture that because their sales have already dropped by 20% on average. We talked to them and we [realized] that we need to help them on [these] transactions too."
It made sense for them to address this pain point given that the majority of their bookkeeping app users were these wholesalers, if not the retailer customers of these wholesalers. It was not going to be so much of a leap for the company to leverage the needed data and resources to effectively solve this particular pain point. 
One, they already have critical cash flow and sales (invoice) data, which would be useful not only to benchmark how useful this solution for transactions would be, but also could be used to inform the solution itself. 
Two, they already had wholesalers using CrediBook as an early adopter pool for this new solution. Product-market fit with CrediBook was essentially going to make it easier (and cheaper) for them to iterate and find product-market fit with this new solution.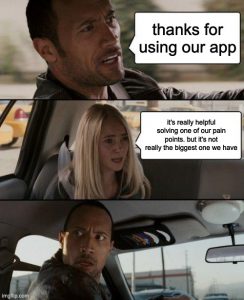 To enable or to disrupt? That was not really the question for CrediBook
And so CrediMart came to life. What's important to realize with CrediMart as CrediBook's answer to this pain point they discovered is that this is a solution that did not require CrediBook to step in and "replace the middleman." Instead of disrupting an already distressed supply chain, the startup decided it was going to take the more asset-light and valuable route: digitally enable and grow the ecosystem of SME wholesalers and retailers they had already amassed through their initial product-market fit with the bookkeeping app.  
Gabriel emphasizes this point on the podcast, "​​We are a wholesaler-centric [company]. So there are some other products that try to cut the supply chain and try to source themselves and sell directly to the consumer or retailer, but we are different because we tap into our wholesalers. We want to empower them. We don't want to cut the supply chain."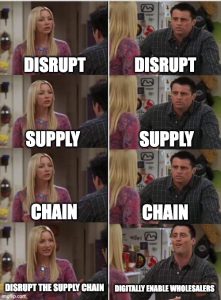 PMF is not found in simply digitizing, but what digitization means when consolidated and integrated on marketplace
By setting up CrediMart as a marketplace, CrediBook was essentially bringing online all these transactions wholesalers were having a difficult time doing amidst the pandemic. And precisely because these transactions would be all online and digitally managed, it would be easier to (1) integrate logistics support like next-day delivery services at scale and (2) facilitate flexible payment methods like BNPL with data from the bookkeeping app. 
Another slight but key nuance to CrediMart is that while a key step in making this happen is digitizing the transactions, the value is less about the transactions themselves being digital or online (i.e. they were already using WhatsApp to begin with), but what consolidated and integrated digitization on a marketplace means for the overall efficiency of their execution, especially amidst the pandemic. 
No longer do wholesalers have to receive orders from retailers coming to their store. They could now also support their customers while driving faster turnover of goods through flexible payment options. Retailers on the other hand would be able to access SKUs more reliably from their go-to wholesalers.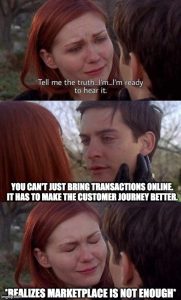 Biggest impact often comes from the most focused delivery: 3 Ripple Effects of CrediMart's product-market fit
Since launch, CrediMart has grown seven-fold in revenue, helping its wholesaler partners increase their daily revenue by 50%, and their customer base of retailers by 56%. 
Going back to Mr. Sihaloho from Bandung, with CrediMart supporting order management, delivery, and transactions, he was able to increase his sales and have enough room in his business's cash flow to provide BNPL payment for his retailer customers. "Thanks to CrediMart for helping my wholesale store and providing logistical support to my retail customers. It increases sales [rapidly] and prevents stock hoarding."
In physics we know that the smaller the surface area of an object, the higher the pressure or force that object can exert on another surface. The same applied to product-market fit in CrediBook's case. Because they focused more on addressing the needs of their wholesalers with CrediMart, they were able to create greater impact even beyond these initial wholesalers. 

First Ripple Effect: Compound Product-Market Fit
For example, the 56% growth in retailer customer base does not only help the wholesalers themselves, but also CrediBook, as these retailers are also target users of the bookkeeping app. So it's fair to say that CrediMart's PMF has contributed to the now 60,000-strong wholesaler-retailer ecosystem of CrediBook, beyond the digital bookkeeping app's organic growth.
More importantly, this ripple effect in adoption from one product to another evolves the value proposition of CrediBook, as now orders that come through CrediMart are also recorded on the bookkeeping app, automating the entire process from SKU management from the wholesaler's POV to the order getting recorded on the app for both the wholesaler and retailer when all is said and done. 
As Gabriel explains on the podcast, "How [CrediBook] fits into the picture is that not only do we help them with accounting, but we also help them with transactions, and these two are also integrated. If you can handle the order it will automatically [be recorded] in your bookkeeping. [It makes things work easier]. It just automates the whole process." 
Because growing CrediMart already by implication grows CrediBook, it also frees up focus for the company to put more effort into CrediMart. They also already trust in the stable product-market fit CrediBook has found, and the potential for CrediMart to scale even further with its more compelling proposition and monetization. "For now Credibook is growing steadily. So we let it grow organically because we know that users love it," adds Gabriel. 
Second Ripple Effect: Vertical Replicability 
Speaking of scalability, a second way impact is widespread is that because they've focused on needs that apply across all types of SKUs and because the marketplace platform itself is asset-light (i.e. they don't own any inventory and focus on facilitating the transaction and aspects around it), CrediMart has proven to be an easily replicable model across verticals. 
As Gabriel adds on the podcast, "That's where we are [strong]. That's why we don't only focus on one vertical, but we also have a broad spectrum of it…we are also serving a broad spectrum of product deliveries, not only daily goods, but also cosmetics, stationeries, construction materials, and even [products] like automotive spare parts." 
Third Ripple Effect: Room for Growth
A third ripple effect is that with 40% of CrediBook's ecosystem or users located outside of tier 1 or 2 cities like Jakarta, meaning to say, rural Indonesia, there's a lot more blue ocean for the company to tap with CrediMart moving forward. "Since launching in February 2021, currently it's available in more than 40 cities across Java and Bali…," shares Gabriel on the podcast. 
CrediBook and CrediMart are just the beginning
For CrediBook, the buck doesn't stop at CrediMart. The same approach of listening to other pain points that enabled them to unlock CrediMart from CrediBook's users will also be key to unlocking future product-market fits. 
The best part is that CrediBook doesn't have to do much heavy lifting to get the feedback. As Gabriel shares on the podcast, "[Wholesalers] also are giving us feedback on how we should build the product and what improvement we need to do on our product. That's a good sign based on my experience. The good sign [that you are] delivering a good product is that your users love it to the extent that they will give you feedback on how to make your product better." 
The wholesalers, especially those who have been there since the launch of the bookkeeping app, have essentially become a "shadow product development" team for CrediBook.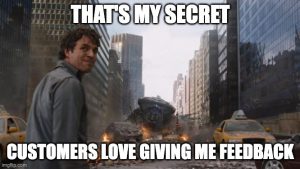 And there's a lot more work to be done. Having seen what a similar business model has been able to achieve in other markets, as in the case of Faire in the US empowering local wholesalers through their B2B marketplace, and considering the millions of SMEs Indonesia looks to digitalize, Gabriel sees a lot of untapped opportunity not just for CrediBook or CrediMart, but new product-market fits addressing more pain points for wholesalers and retailers down the road. 
"So Credimart has its own uniqueness based on business owners and the supply chain landscape in Indonesia. However Faire's success in empowering local wholesaler retailers represents how powerful they are. Local businesses and transactions are huge and active in Indonesia alone, [where] we have over 200K wholesalers.
Currently we have 16 million SMEs based on government data. We have 16 million SMEs onboarded on digital platforms. It has grown [twofold] since the pandemic; the number was 8 million before the pandemic, and we are seeing really, really huge growth.
And the government mentioned that they want to aim for 30 million SMEs to be onboarded in 2024 if I'm not mistaken. So within the next five years, we are seeing the growth or the technology adoption in this SMEs industry will be very, very massive. That's why we are here to provide them with technology solutions. And we are seeing the adoption of technology solutions will see great growth within the next few years."
5 Takeaways from the CrediMart's case on Compound Product-Market Fit
One product-market fit can lead to another by involving customers in the company's product development (i.e. good old feedback). 

Finding progressive product-market fits in a cost-effective manner involves leveraging existing assets from existing, widely adopted products. 

Digitizing alone is not a compelling value proposition. Building upon how digitization can make entire value chains or customer journeys more efficient is key. 

The biggest impact comes from the most focused deliveries. 

Good products meet user needs; great products compel users to ask for more. 
Paulo Joquiño is a writer and content producer for tech companies, and co-author of the book Navigating ASEANnovation. He is currently Editor of Insignia Business Review, the official publication of Insignia Ventures Partners, and senior content strategist for the venture capital firm, where he started right after graduation. As a university student, he took up multiple work opportunities in content and marketing for startups in Asia. These included interning as an associate at G3 Partners, a Seoul-based marketing agency for tech startups, running tech community engagements at coworking space and business community, ASPACE Philippines, and interning at workspace marketplace FlySpaces. He graduated with a BS Management Engineering at Ateneo de Manila University in 2019.
***