This article was first posted on Bayu Anggara's Medium Blog and reposted here with the author's permission. 
Highlights on Indonesia fisheries:
Indonesia is one of the largest archipelagic countries, consisting of more than 17,500 islands, only 6000 of which are inhabited
It is the 2nd largest fisheries producer, with a total of 7.2 million tonnes in annual production of fish
It has the most biodiverse marine ecosystem, with an estimated 2000 species of reef fishes
Indonesia exports nearly US$6 Billion in seafood per year
Indonesia has the most biodiverse seafood species across the globe. The data from Coral Triangle Initiative and Coral Reefs, Fisheries and Food Security (CTI-CFF) estimates that nearly 3000 species of reef fish are found within the Coral Triangle, making it the richest place on Earth in terms of biodiversity. And if the Coral Triangle is the heart of the world's marine biodiversity, Indonesia would be the epicenter. Roughly 2000 species of reef fishes live in Indonesia's marine ecosystem, and no other country in the world has higher marine biodiversity than Indonesia.
The problem doing business with a diverse marine ecosystem
Seafood processors, traders, distributors and retailers are always confused about the variety of SKUs (stock keeping units) for seafood products. Variety has emerged without any standardization along the way from source to distribution. Different locations have their own local names. When a certain fish is delivered to other locations, the name will change due to other localities having their own local name for the species.
Fishing merchants also have their own preferences in terms of where these fish come from, even as they can be available from multiple areas. Some buyers only want to buy fish from specific areas such as Cakalang from Bitung North Sulawesi, Tuna from Bali, or Reef fishes from Papua.
Without any standardization, the barrier to entry into this sector is very high. Fishing businesses need to master product knowledge, find the right people to learn from, and get the right partners to work with.
How FishLog try to solve this perpetual SKUs naming problem
The FishLog mission is not about "cutting the middleman, delivering fish from fishermen to direct buyer" which we hear about so often. What we really what to do is to unlock selling potential and maximize the storage utility of Indonesia's fragmented fishing industry, building the best and most affordable way to ensure product and labor sustainability. FishLog is building the ecosystem enabler and operating system of this industry. So everyone participating in this industry can do transactions that are safe, trusted, and integrated with the other stakeholders.
In order to do this, we still have to address the "elephant in the room", which is the lack of standardization across Indonesia's diverse fish SKUs. We are solving this by streamlining the SKU name standardization through our digital platform, covering all species — handling, quality, and other attributes, as well as anticipating every scenario of product naming.
The question is, how does our method actually streamline industry SKU standardization?
A. Define the potential Information Blocks that may appear on the final SKUs or stakeholder needs. This growing list of Information Blocks includes:
Fish species
Trade name
Local name
Fishing ground / WPP
Landing port
Processing type
Size
Quality / grade
Packing form
HS Code
B. List down every category possibility that can show up for each of the Information Blocks.
Fish species (Thunnus Spp., Katsuwonus pelamis, etc)
Trade name (Tuna, skipjack, mackarel, etc)
Local name (Maesang, Deho, Tongkol, etc)
Fishing ground / WPP (WPP 714, WPP 715, etc)
Landing port (Muara Baru, Juwana, Ambon, Bitung, etc)
Processing type (Whole Round, Fillets, WGGS, etc)
Size (100–200, 201–300, 301–400, etc)
Quality / grade (A export grade, B export grade, local grade, etc)
Packing form (Box, plastic, sack, etc)
HS Code — for export code
C. Integrate all of these Information Blocks and categories per Information Block into our operating system. Ensure all the possibilities of product naming are available.
Using a simple formula in a spreadsheet, we can generate all of the naming possibilities of every seafood SKUs across Indonesia. For example, when it comes to frozen seafood SKUs, it shows at least 21243 SKU IDs can be generated. So regardless of the local name our stakeholders use for specific SKUs, depending on the SKU attributes, the system will directly generate an ID following our SKU naming standard, so fishing businesses in other islands in Indonesia or even other parts of the globe (e.g. for exports) can use the same page to view products information based on this SKU ID.
While this three-step process standardizes the naming of SKUs, to ensure processes are also streamlined across the industry, we need to integrate this standardized system with our processor partners — to that end, FishLog created the FishLog Quality Control Center to ensure the process of products coming inbound and going outbound are standardized as well.
FishLog Quality Center — an initial step to build operating system for Indonesia seafood potential
FishLog Quality Center are asset-light facilities operated by FishLog, working together with existing cold storage/processor facilities. Its role is to ensure supply chain processes are standardized, manage inventory with our in-house Warehouse Management System, facilitate listings in our B2B marketplaces, and provide inventory financing as well through well-managed data and inventory.
Just as Bulog is building such systems for Indonesia's rice industry, FishLog aims to do the same for the country's fisheries industry. The key difference is that instead of investing in any asset-heavy infrastructure like cold storage, vessels, mini-plants, or even cold truck logistics vehicles, we are leveraging collaboration, integration, and synergies to build this operating system. What we want to do is to enable cold storage, processing, and distribution to meet the global supply and demand. Giving existing players the tools, operating models, and access to liquidity will increase the ability of Indonesia's fishing industry to process products and SKUs of which, as I wrote earlier, we know the country already has many.
In the same way that:
GoFood is digitizing and standardizing restaurant merchant operations in Indonesia,
Airbnb has been digitizing and standardizing access to and processing of travel accommodations and hotels,
Carro and other used-car marketplaces have built digital-first standardized QC for used cars,
We are doing the same for Indonesian fisheries, by starting with the FishLog Quality Center embedded with our processor cold storage partners.
As this is just the starting point, FishLog continues to expand across more cities to unlock potential in strategic locations for Indonesia's fishing industry.
Looking to join our mission in creating sustainability for this industry?
Ping me on: bayu@fishlog.co.id / +62 822 9778 7337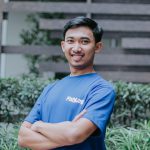 Bayu Anggara is the CEO and co-founder of Indonesian B2B fisheries cold chain platform FishLog. Prior to FishLog, he was in the seafood products and trading food business and has had years of experience in the local fisheries industry. He graduated from Bogor Agricultural University with a Bachelors' in Fisheries and Marine Technology.
***