Indonesian B2B cold chain fisheries startup FishLog CEO and co-founder Bayu Anggara writes about addressing cold chain inefficiencies as the key to unlocking the industry's true potential, and how this leads into building the OS for cold chain fisheries after having achieved 20x year-on-year growth on their cold chain commercial trading go-to-market from its launch in 2020. 
Highlights
The next generation of commerce will be focused more on agriculture, livestock, and fisheries products. 

A traditional business environment combined with inherently challenging cold chain distribution across the Indonesian archipelago has left Indonesian fisheries plagued with inefficiencies.

Partnering with stakeholders to build the cold chain connectivity is foundational to truly unlocking the potential of Indonesia's fisheries industry and addressing longstanding inefficiencies in the sector. 
We've seen how the first generation of digitalization focused primarily on consumer products and FMCGs, and there's still a lot of work that needs to be done there. But I believe that the next generation of commerce will be focused more on agriculture, livestock, and fisheries products. Players in the market are steeped in traditional business practices and supply chain relationships and transactions are done offline and with pen and paper. This has resulted in a lot of long-standing inefficiencies across these industries in Indonesia.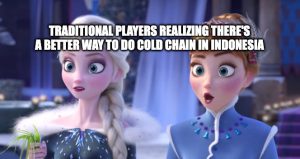 Into the Unknown
My co-founders and I have been in a long-term relationship with Indonesia's fisheries industry. We all graduated from IPB University, a fisheries college, and have spent our years prior to FishLog working in companies along the fisheries supply chain, from export to cold stage operations to seafood safety standardization. 
Starting our careers in fisheries, we carried with us a lot of idealism about how we could grow and make an impact in the industry, but after a couple of years we realized just how serious the industry inefficiencies were and how much of a hurdle they are for the market. We believe that Indonesia has a lot of untapped potential with its natural resources, clogged up or gone to waste because of supply chain issues, and fisheries are one of them. 
In particular, when it comes to the cold chain supply chain in Indonesia's fisheries industry, we saw three key pain points across stakeholders: 
There's a mismatch between supply-demand availability, leading to underutilized cold stage fulfillment

There's fragmentation among cold chain stakeholders

across

regions and they are unable to connect and benefit from transacting with each other

Buyers demand more varieties in fish species but suppliers are unable to meet these needs, primarily due to (1) and (2) 
Having had to deal with these pain points firsthand, and seeing that many other cold chain fisheries businesses have been going through similar issues, Reza Fahlepi, Abdul Halim, and I came together to start FishLog to address the key supply chain issues. But as it is with most startups facing massive market potential and an array of pain points that can be solved, the biggest question is where do we begin? 
Below is FishLog's official intro video
Cold Chain is the open door
Indonesia's fisheries industry has a lot of old-style players that have passed on conventional business practices from generation to generation. This has created a business environment where it is almost impossible to introduce new solutions, much less ones that involve digital technology. 
This traditional business environment has only made cold chain distribution across the Indonesian archipelago all the more challenging. The inherent geological nature of the country means fisheries products need to be delivered frozen or via the cold chain. Out of the US$20B worth of seafood produced by Indonesia every year, more than half of it is delivered frozen for domestic consumption. Then when it comes to exports, Indonesia distributes US$6B worth of seafood with more than 90% via cold chain.
This made us realize that partnering with stakeholders to build the cold chain connectivity is foundational to truly unlocking the potential of Indonesia's fisheries industry and addressing longstanding inefficiencies in the sector, from the supply-demand mismatch and regional fragmentation to the resulting inability to meet buyer needs.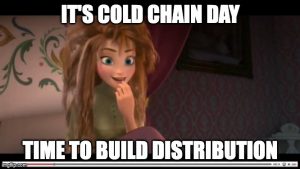 It's also the key to growing FishLog as well. By starting with commercial trading first or partnering with the supply side (fishermen and processor) and demand-side (distributor and B2B buyer), we are able to secure volume, digitize transactions, and own distribution. We believe that "product is king, distribution is god", and when we have this owned network through B2B cold chain transactions, it makes it easier to deliver any seafood as well as products in any category that requires distribution via cold chain.
After all, fish is the second hardest commodity to handle, after milk. If we can handle fish and seafood, it would be quite easy to handle any kind of commodity in the other category.
But more than enabling FishLog to expand across SKUs that depend on Indonesia's cold chain for domestic and export distribution, securing and building up volume over the past year (20x yoy growth on commercial trading) has enabled us to amass data. And as we know from most startup business models, being able to leverage data opens up a variety of revenue streams. 
This year, we are working to establish financing services, cold storage management, and even a marketplace. This product flywheel will not only set us apart from most other players that have focused either solely on the upstream or downstream but also help to retain and attract stakeholders to be part of our network.

Building this ecosystem for Indonesia's cold chain distribution is a tall order, but we didn't come into this starting completely from square one. Between us founders we have the industry knowledge and experience and key connections with local stakeholders. This has not only helped in terms of the developing the product and operations but also attracting talent, particularly operational talent that requires strong industry experience. 
Do you want to build the OS for Indonesia's cold chain fisheries industry?
In this niche and specific industry, we have a different approach with existing player/startup solutions. Our vision is to become an enabler, instead of becoming an additional, ordinary middleman inserting ourselves into the value chain. 
We want to enable all fisheries stakeholders to join the ecosystem. We don't want to cut all the middlemen. We believe that there are a lot of middlemen that bring their own value into the sector, and we believe that value can be optimized with our platform.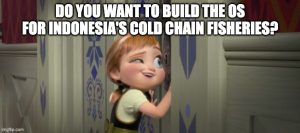 In the long run, our goal is to be able to build a strong operating system for the fisheries industry in Indonesia, deliver fish and seafood products at scale, with the lowest effort. We are seeing this achieved in real time in other markets as well across the world, including Google-backed Rooser, a Scottish startup building its marketplace and software solutions for cold storage, and we're aiming to be the one for Indonesia. 
With this operating system, we can increase productivity along the value chain. We can invite and create new entrepreneurs to join the industry. Just like there are many new restaurant entrepreneurs because of GoFood, or there are many new hotel entrepreneurs building their own assets to provide affordable hotels because of AirBnB, we also want to create new fishermen, new cold storage establishments, and connectivity across the nation, because FishLog can provide the operating system to work on. 
We can generate new value by increasing productivity and connectivity across the stakeholders, not just getting value from cutting the middleman only. We believe that with this model, we can contribute to the cold chain industry's improvement and directly impact the Indonesian economy.
To join us at FishLog, find open positions here.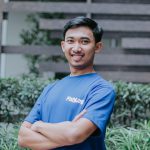 Bayu Anggara is the CEO and co-founder of Indonesian B2B fisheries cold chain platform FishLog. Prior to FishLog, he was in the seafood products and trading food business and has had years of experience in the local fisheries industry. He graduated from Bogor Agricultural University with a Bachelors' in Fisheries and Marine Technology.
***