In this year's Milken Institute Asia Global Summit 2020, our founding managing partner Yinglan Tan joins "Venture Capital: In Search of the Next Big Thing" panel with Wavemaker operating partner Sui Ling Cheah, PalmDrive co-founder and managing partner Seamon Chan, Hype Asia Partner Martin Li, moderated by Openspace Executive Director Jessica Pouleur.  
Highlights
2021 investment opportunities in Southeast Asia: hyperlocalization of ecommerce, rebundling of the bank, COVID19 sunrise sectors (edtech, healthtech, SaaS)
The appeal and advantage of investing in Asia is that founders are solving local problems — problems they oftentimes know firsthand while taking a page out of the playbook of comparables from other (oftentimes more developed) markets
Generating returns in an increasingly competitive landscape requires a mindset shift. Instead of playing the game or riding the waves, investors and companies need to make the waves themselves.
As the year ends, so have the questions on the future come in, especially following a year of unprecedented change. And with venture capitalists constantly looking out to the future, some of the leading VCs on this side of the Pacific share their two cents on 2021 investment opportunities, investing in Asia versus the US or the West, and factors that drive the best investment outcomes. 
The Three VC Buckets of 2021
When it comes to sectors, Yinglan put 2021 post-pandemic investment opportunities in Southeast Asia into three buckets.
"Hyperlocalization of ecommerce is one bucket." New models of ecommerce catering to specific market segments (e.g. Super enabling group buying in rural Indonesia) and built around specific customer journeys (e.g. Carro for cars across Southeast Asia, Pinhome for property in Indonesia) have emerged in the last five years in the region and can expect to see greater adoption as more consumers warm up to the ecommerce experience. 
This hyperlocalization also creates more space for marketplaces to innovate the customer experience, incorporating social interactions, gamification, or entertainment.
"The second basket is the rebundling of the bank." Fintechs are shifting from single-service platforms to entire ecosystems catering to specific use cases (e.g. Aspire as a neobank for SMEs in Southeast Asia, Payfazz as an ecosystem of financial services for rural Indonesia), and even build fully digital bank offerings from scratch (e.g. tonik for middle class consumers in the Philippines). 
"And the third is the elephant in the room, post-COVID sunrise industries." There's edtech, as we expect greater demand for online learning tools even as schools reopen (blended learning). There's healthtech, as consumers and businesses demand more affordable and accessible care services, from consultations to mental health (e.g. Intellect for mental health care in Asia). And then there's SaaS, as more businesses look for productivity and management tools to make certain operations more efficient and contactless (e.g. Nektar for B2B sales productivity in Asia)
Investing in Asia is a homegrown affair
With well-established verticals like ecommerce and fintech finding new forms of value creation and emerging verticals like edtech and SaaS finding the spotlight in Asia, it comes as no surprise that more and more investors outside of the region are looking to place their bets on local champions. 
In this regard, Southeast Asia has been of particular interest, given the current tensions across the Pacific. The bifurcation between the largely tech-innovation sphere in the US and the largely business model-innovation sphere in China has opened up space for Southeast Asia and other East Asian countries to bring in their own brand of innovation.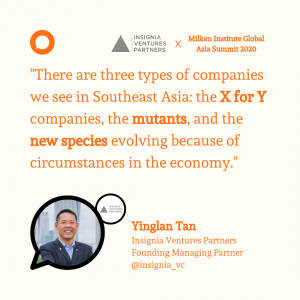 This innovation has manifested in Southeast Asia in three different forms, according to Yinglan. "There are three types of companies we see in Southeast Asia: the X for Y companies…the mutants…and the new species evolving because of circumstances of the economy." The X for Y companies applies existing models, usually from more mature markets, directly to local problems. The mutants tweak these existing models to adapt to local conditions, and the new species are birthed out of the needs of the local environment. 
Regardless of the form, the commonality is clear: Asian companies are solving uniquely Asian problems. The advantage is clear as well: Asian companies are able to learn from the successes and failures of Western comparables. 
As Wavemaker's Sui Ling Cheah puts it, "We like companies that innovate for problems that can be solved here… We don't expect the nice people of Silicon Valley to solve these problems, it will be solved by people who live it, breathe it…"
Even as local founders have the advantage of solving problems they know firsthand, for venture builder Hype Asia's Martin Li, "bridging companies to Asia still exists, but you have to pick the opportunities. It can't be done in a purely investment angle, it has to be built."
"We like companies that innovate for problems that can be solved here… We don't expect the nice people of Silicon Valley to solve these problems, it will be solved by people who live it, breathe it…" – Wavemaker operating partner Sui Ling Cheah
Generating returns amidst competition from all angles
With more late-stage investors coming into the region looking for needle-moving exits, early-stage VCs and venture builders are becoming more competitive when it comes to finding paths to exits and generating returns for LPs. From Palm Drive's Seamon Chan's perspective, "Asia is definitely very competitive, a lot of capital has been following into Asia even pre-COVID."
For Sui Ling, it goes back to solving meaningful problems. "People are looking more into venture capital [in Asia]…If we solve meaningful problems, we will be rewarded for it, and we see technology as the way to do this in a scalable manner." 
One way VCs have differentiated themselves in generating returns is through stakeholder activism, which in itself has many interpretations as the activist investor can influence a company/investee in various ways. For Hype Asia's Martin Li, "Activism is really about how we can help the company. In early-stage venture space, activism is about how you build a company."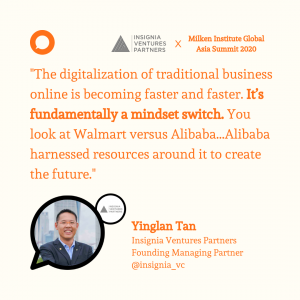 Even from the tech company's perspective, the landscape has likewise become more competitive from all angles — larger players (e.g. Bytedance, Stripe hiring massively across Southeast Asia), incumbents digitalizing or shopping for acquisitions, and lowering barriers for new startups. 
For Yinglan, facing this competition requires a mindset switch. Instead of riding the waves of digitalization, great companies need to make the waves. As he puts it, "[The] digitalization of traditional business online is becoming faster and faster. It's fundamentally a mindset switch. You look at Walmart versus Alibaba…Walmart brought their store online…Alibaba harnessed resources around it to create the future."
And then when it comes to traditional companies or incumbents, succeeding in digitalization boils down to execution. "Traditional companies making more investments in tech companies adjacent to their business. They just invest because they see synergy but when the rubber hits the road it doesn't get executed…" Yinglan says. 
"Activism is really about how we can help the company. In early-stage venture space, activism is about how you build a company." – Hype Asia partner Martin Li
***
Generating returns amidst the competition from all angles is a matter of endurance. Compared to the US or China, we can expect that at this point in the ecosystem's maturity, the timelines to reach fairly large exits will be relatively longer. On a single market level, the speed may be the same, but considering Southeast Asia is multiple markets, and even within countries like Indonesia, expanding from one province to the next presents a similar challenge, growth will likely take longer than most Silicon Valley narratives we are accustomed to. 
And with longer timelines, this means a higher risk of competition, greater importance of gaining regulatory backing, and more exposure to uncertainties (like COVID19). This means companies have to have the endurance to produce the best outcomes for both the company and their investors. Couple this with the fact that investors are flying to quality and are not just investing in fast growth alone. 
And this endurance is ultimately shaped by culture first. It sounds high-level, but we've seen this in action with our companies especially those in badly hit sectors. The founders who really know what they are doing have already instilled in their companies a culture of resilience (e.g. how AwanTunai managed to expand their loan book, launch new products, and secure OJK license) that then spills into how they do product development and grow their business. 
For more notes on past events, head to this page. We also cover events our team is at on our Twitter and Instagram.
Paulo Joquiño is a writer and content producer for tech companies, and co-author of the book Navigating ASEANnovation. He is currently Editor of Insignia Business Review, the official publication of Insignia Ventures Partners, and senior content strategist for the venture capital firm, where he started right after graduation. As a university student, he took up multiple work opportunities in content and marketing for startups in Asia. These included interning as an associate at G3 Partners, a Seoul-based marketing agency for tech startups, running tech community engagements at coworking space and business community, ASPACE Philippines, and interning at workspace marketplace FlySpaces. He graduated with a BS Management Engineering at Ateneo de Manila University in 2019.
***