Ritase CTO and co-founder David Samuel debunks five myths on the digitalization of logistics in Indonesia. 
Since Iman Kusnadi and I founded Ritase in 2018, we've seen how Indonesia's logistics technology space has evolved and populated with an ever-increasing number of software and platform solutions. 
While we believe that technology can help Indonesia's fragmented and traditional logistics sector leapfrog into the future, driving adoption is no walk in the park. And even when this technology is adopted, ensuring that it is the "real deal" and truly provides value is another matter entirely.
From my experience building an ecosystem of software solutions for the logistics needs of MNCs and logistics providers, addressing industry pain points from process inefficiencies to cash flow challenges and fleet utilization, I've outlined some of the misconceptions or myths I've encountered. 
Myth 1: Happy customers = happy users

Myth 2: SAP (or other ERP) Solves All Problems 

Myth 3: As a shipper/transporter, developing my own software is cheaper and can be more tailor-fitted to my needs 

Myth 4: Digitalization in logistics doesn't really reduce overall logistics cost 

Myth 5: Indonesia's logistics industry will remain analog and unorganized 
Myth 1: Happy customers = happy users 
Our customer is typically the logistics head or VP of the supply chain or the one who attends the pitch presentation in the company headquarters and decides which tech platform will be implemented in their company.  
On the other hand, the users of our platform are the daily workers, transport planners, administrators in the warehouse, factories, or distribution centers. 
Some companies can make a beautiful pitch deck, nice looking frontend with great UI animation, woo the logistics VP and heads, and get a positive nod to have a trial, only to find out the software isn't being used properly in day-to-day operation by the users. 
There could be a variety of issues: slow loading time, misalignment in the problems being solved, the product only adding more unnecessary steps to an already complex process, etc. 
Then six months later, thanks to disillusioned users, the dashboard is not reporting the correct data because the platform is not being used properly. Then the customers decide to choose other tech platforms, and the cycle continues. 
We believe that we need to achieve a balance between the expectations of our customers and users. 
Even early on in Ritase, our product and engineering teams sit together with the real users for months in the warehouse, before even writing tech spec documentation and beginning to code the app just to make sure every part of our frontend helps them make the process faster and accurate.
And once our clients start using our platform, our customer success team makes sure the "change management" is really taking place in our client's company and delivering results for them.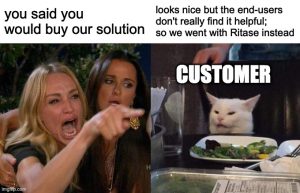 Myth 2: SAP (or other ERP) Solves All Problems 
People think that by implementing the most commonly used ERP in Indonesia and even globally, SAP TM (Transportation Module), or even other ERPs, all their logistics issues will be solved, cases closed. 
However, the complexity of using such software is most of the time overkill for the logistics process even in big multinational companies. Moreover, customers need to consider the technology proficiency of their employees. When their transport planner spends most of their valuable time in front of the computer trying to operate or input the data, that's when you know something is not right. 
The key principle here is that there is no one size fits all logistics software solution for all types of businesses. At the end of the day, the two key considerations are whether the value justifies the cost and, going back to Myth #1, how usable it is for the users in the company. 
We write more about considerations for using ERP and where Ritase as a comprehensive TM works best on our Medium blog.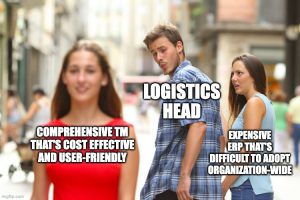 Myth 3: As a shipper/transporter, developing my own software is cheaper and can be more tailor-fitted to my needs 
This is the opposite of the Myth #2. Some small to midsize companies (or other start-ups) believe that they should develop their own TM system or logistics platform instead of paying for a monthly subscription to a SaaS solution like what we offer at Ritase. But most of the time, they forget that with the former there are hidden or unknowable costs to setting up, operating, and maintaining in-house software.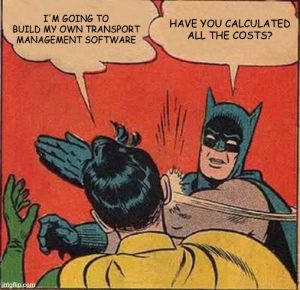 As we detail in the three graphics below, the bottom line of employing a SaaS solution and freeing up costs and time to focus on your core business can be more productive. 
We write more about these cost comparisons between SaaS and in-house solutions on our Medium blog.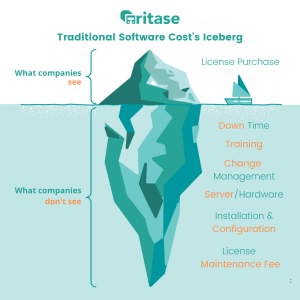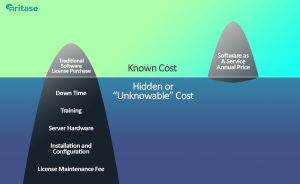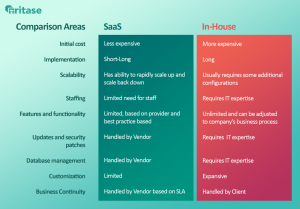 Myth 4: Digitalization in logistics doesn't really reduce overall logistics cost
What we've seen from our work in Indonesia is that incumbent logistics companies tend to focus more on negotiating with the vendor transporters and pushing them to lower their quotation transportation fees every year. This approach is not healthy for both parties, as it can backfire and the sustainability of the vendor relationship could be damaged. 
The truth is, proper digitalization in logistics allows planners and managers to discover areas of waste in their transportation strategy through route and load planning optimization, lead time identification between warehouse and delivery, and other methods, so they can  improve operational efficiency based on historical data and create more value for the supply chain. 
Case Study: Within 5 months of using our TMS, one of our enterprise customers successfully reduced their logistics cost and saved $178k monthly. It's a very good deal considering our TMS subscription costs a fraction of what they save monthly (less than 10% of what they save monthly in logistics costs). Read more about the case study here, and you can also check out some testimonials from our enterprise customers like Lotte Indonesia (don't worry there are English subtitles!).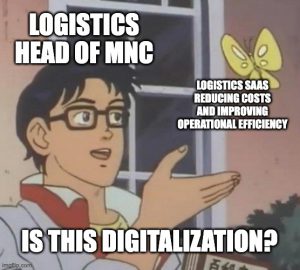 Ultimately for the shippers we work with the two biggest indicators of success are when we can improve efficiencies (e.g. cut multiple chains of brokers through our bidding system, improving load and route optimization with our load planning algorithm, managing accessorial costs through our payment management feature, etc.) and when they come back to us asking for more solutions. 
For example, we were initially trusted to implement a Transport Management System (TMS) for one of the multinational FMCG companies nationwide. Six months later, they came back to us asking for a solution to help their 300 distributors manage the receiving goods process. Now all 300 of their distributors across Indonesia are using our consignee app to do this. 
These cost savings and overall efficiency gains from our digital ecosystem of solutions are not limited to our shipper customers. Transporters stand to see increases in orders each day and reduction in their fleet's idle time. Cash flow challenges around limited working capital are also addressed through our supply chain financing program (you can check out one success case here from Prima Sarana Express). The drivers as well using our driver app are not only more productive, but they are able to save on daily expenses through our Ritase Points and Pay. 
Myth 5: Indonesia's logistics industry will remain analog and unorganized
When Ritase launched its MVP around four years ago, many logistics players in Indonesia initially had their doubts. In the beginning, Ritase's tech team only consisted of myself, Gin, and Rico. The three of us are still in Ritase up to this day, by the way. 
But basically incumbents were wondering how a newly-founded startup with only 3 engineers could bring cost-effective and valuable solutions to a company as massive and as established as the likes of Nestle, Perfetti Van Melle, Unilever, or Kino?
Fast forward to today, our platform has been officially used nationwide by these big name companies mentioned above, delivering value and improving logistics efficiency all over Indonesia. 
The sales conversion cycle might take longer than other SaaS B2C companies targeting SMEs or retail users. It could take years to convince enterprises, but once you get in, we are able to achieve long LTV (lifetime value) and high switching cost which exceeds the CAC (customer acquisition costs).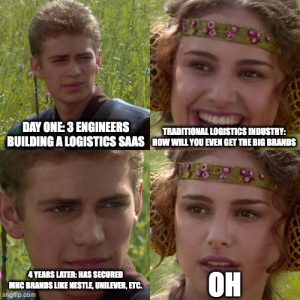 And behind driving this adoption is a team that has grown from the three engineers when we first started. While Southeast Asia's booming tech scene has resulted in massive war chests, and consequently a more competitive talent landscape and inflated remunerations, we've been able to find and retain tech talent by focusing on the long game. 
We hire for fundamentals and potential more than experience, opening our doors to fresh graduates or talents with less than two years experience. Through mentorship from our existing senior engineers, we are then able to grow Ritase with their own personal growth. 
It's just a matter of time before tech platforms like Ritase become the new norm in the  logistics industry, especially in Indonesia. 
Indonesian logistics in the next five years can only get more interesting as the key principle driving us into the future is efficiency; How to be more efficient? How to be more productive? How to reduce human error? How to save more time and money? And importantly, how can we reduce our carbon footprint? One of the best answers if not the most important one is through the digitalization of our logistics process. 
If you are a decision-maker or a member of the logistics & transportation division  who has a vision of moving forward, and is ready to face the challenges of the new normal, we in Ritase continue to develop a ready-to-use comprehensive logistics platform that answers all your company's logistics operational digitization needs. Would love to have a chat with you! Connect with Iman Kusnadi or myself on LinkedIn. 
***