Consumer funding reached its peak over the pandemic, and while 2022 inflation has likely driven the drop in the first two quarters, it has not receded back to pre-pandemic funding levels. That said, with capital a lot more scarce than before, it becomes all the more important for startups, especially in a sector like consumer goods or commerce where margins tend to be thin, to figure out how to optimize for capital efficient scale. 
With the rise of verticalized commerce focused on specific market segments or product categories, a common thread across the go-to-market strategies for these companies has been to build communities. Building communities is often done to achieve one or more of the following: 
Build a brand and validate monetization potential, especially for go-to-market strategy 

Create a mine of data and insights from which to then develop personalized consumer experiences

Educate the market and build trust in products or services that change the status quo

Reduce customer acquisition and overhead costs to scale more cost-efficiently and reach profitability 
And in the case of second-wave ecommerce in the region (i.e., nongeneralist marketplaces), this community building is often done in tandem with or even prior to rolling out any product or service to this community. 
For this article, communities refers to groups of people formed around a shared consumer preference or need, and later on, journey. They could have been formed by the company directly, as in the case of a Facebook beta tester group, or they could already be existing, as in the case of a rural community that needs better access to FMCGs. 
And in this article, we focus on how five common elements of communities built by early-stage D2C commerce startups, or startups with a D2C business, can contribute to more capital-efficient scale, especially when the business models of such companies are already often subject to thin margins due to operational costs like logistics and competitive pricing. 
Ultimately these communities are not just done purely for the sake of riding on consumer behavior trends, creating that initial product-market fit, or investing market education. Instead there can be returns to the business through such communities. 
Five Elements of D2C Community Building and How They Can Contribute to Capital Efficient Scale for Commerce Companies
(1) Expertise (Community as a Channel that Builds Trust): This could range from having trusted domain experts like doctors as influencers in or simply part of the community, to partnerships with institutions like governmental organizations, or even rolling out ISO-certified products. The principle behind this element is that consumers are not just buying products, but buying into verified information and insight that comes with being a part of the community. 
Of course the kind of expertise present in a community depends on the product category. It's not just about subject matter experts, but it could also involve having community leaders who are familiar with the people's behavior and culture in their area or market. 
How this element contributes to capital efficient scale is that because consumers are buying into information and insight, this helps build longer retention and over time decouples their customer journey from any single product and ties it to the platform instead. 
"Because I'm also in the [hospital] and I'm also in the field, I really see what problems the parents have and what we want to do to solve their problems. And since we also have been managing very good relationships with the professors, teachers, on-call […], I think as pediatricians as Garri said, we have a similar vision and mission which is to optimize the growth and development for the 80 million children in Indonesia. Because of that, the organizations or the doctors really want to work together with Tentang Anak." — Mesty Ariotedjo, Tentang Anak
(2) Relationships (Community as a Channel that Builds Brand at Scale): Communities are not just composed of individuals, but also relationships. These relationships range from ones they have with the product, service, or platform itself, to the ones they may have with other members of the community, to the ones with outside individuals who may be potential members as well. 
D2C startups usually tap into these relationships through loyalty or beta-testing programs (relationships with the product), group buying (relationships with fellow members), or referrals (relationships with potential members). 
By leveraging these relationships, D2C startups are able to reduce both churn and customer acquisition costs over time, as the engagements like the ones mentioned above are deeply rooted in the desire for shared experiences, image-building, influence, or simply fitting into a group. Relationship-based initiatives for customer acquisition and retention also bank on authenticity, with the community at the center of the effort rather than the company or brand per se. 
The caveat here is that these initiatives can easily become pure cost centers if the platform is not able to ultimately drive purchase conversions. This makes it important to be aware of and validate assumptions on which these initiatives are developed (e.g., does this relationship actually exist? Is it strong enough to drive conversion?) 
We see initiatives like these embedded into platforms with live streaming, for example with features on Twitch like "raids" or in YouTube with their paid club memberships that echo Patreon's initial value proposition. And with social media and commerce intersecting more deeply, especially in terms of how D2C startups build communities, these same features used by creators are also accessible to brands or sellers. 
"At first, when we started in Surabaya, we approached the market and we had our people go in there and we tried having commerce there and we were dumbfounded because it was pretty hard. Why are people not connecting with our agents? We couldn't figure it out. We kept trying until we had a different sample of Super Agents, which was locally homegrown in the North of Surabaya right. And [a customer from this sample] was the deviation. And then we figured out that the culture in the north of Surabaya is very loyalty-based. People that have been doing business with you will stick doing business with you just because they know you just because you're friends with them and so on." — Garret Koeswandi, Aplikasi Super
(3) Feedback Loop (Community as a Channel that Contributes to Product Development): Communities of D2C platforms can also reduce the costs of product discovery and unlock successive product-market fits. This could involve having a captive group of early adopters that is maintained over time, or having product teams in the company work more closely with marketing channels to generate and make use of insights directly from users. Some D2C platforms will also not just be content with depending on third-party marketing channels to funnel these insights, but instead, actually track app or web-app usage or create in-platform channels to capture key feedback from users. 
The difference between simply getting feedback from users and creating a feedback loop with the community is that there's not as much attention paid to curation or structure in the former as much as it is in the latter. With community-based feedback loops, the existence of a community "curates" the feedback (and further curation can be developed), while the platform through which this community is formed would ideally help "structure" the communication of the feedback (and further structures also can be developed). 
And so these communities become a "shadow product development team", not just providing insights at scale, but in some cases also becoming a source of future hires. This element also helps startups to create buzz and brand awareness when entering a new market. 
"The test that we carried out was actually social media seeding in which we essentially create content that might be relatable to local audiences and find out how people react to the content. And we actually went really viral on our TikTok. We gained over 200,000 followers pretty much overnight. And that led to us opening a waiting list which also ended up getting about 5,000 sign-ups. And it kind of told us that people were not just interested in these products and services, but they were ready to purchase from us. So that gave us a pretty good sense that the Philippines was our next market to go to." – Guadalupe Lazaro, Ease Healthcare
(4) Enablement (Community as a Channel that Improves Lives of Members): One of the biggest things (in the author's opinion) that has made Kpop what it is today are the fan communities that do not just reward but enable or even support fans to express themselves as fans within their communities and beyond (e.g., video chats, video messages, cover art, etc.). The results of such expression then reaps returns for marketing and brand-building dollars at scale in a way that the artist's agencies may not have been able to do on their own or in such an authentic way.
In the same way, effective D2C communities have an element of enablement where being part of a community reaps benefits beyond simply being a user. For some communities, this could even involve income generation, with members of community actually becoming part of the business model, as in the case of agent networks. In other cases, this could range from access to uniquely distributed or personalized resources (e.g. we see this a lot in healthcare or wellness-based communities) to a portfolio of redeemable rewards.
The principle here is that scale is better achieved when the business is not just selling products but improving lives. This doubles down on the reality that many consumers of D2C platforms may not just be looking for one-time purchases but partners on their journey around a specific type of purchase or aspect of their life. And just as with the Kpop example, the results of rewarding members can oftentimes tie back to the business model, actually growing the business. This is obvious with the agent network case, but even organic user marketing can contribute to better margins when this happens at scale across the community. 
Of course, as with the second element on relationships, such initiatives can bleed the business dry if done on assumptions that turn out not to be well-founded (e.g., members don't actually find the rewards rewarding), so it is important to validate assumptions first (why not use the third element for that?) 
"So we have to be very balanced on education and recommendation, but how do you actually gain access to products and services? We would love to marry both. So as a parent, you can have less cognitive load. You have less browsing multiple spaces, multiple apps, just to get things done while at Tentang Anak everything's curated, everything's scientific and everything has already been preselected by the experts, but from the education piece, as well as the products and services. So that's pretty much how we are actually trying to see where our business is going." — Garri Juanda, Tentang Anak
(5) Logistics (Community as a Channel with Infrastructure): This is likely the most underrated element of community building. Ultimately, all the prior elements can't happen effectively if there's no logistics layer to support the formation of the community, curation, processes, feedback loops, and rewards. This layer includes the offline and online platforms where community engagement happens to the operational aspects of delivering products and services to the community. It's important for the business to take into account this aspect not just from the perspective of necessity but also potential cost reduction at scale. If the resources used for such logistics can cater to multiple community engagements at once, then that would cost less for the business over time. 
"On a lot of the spendings in Super we are very lean on that matter and how we are able to do so is what I call "leveraging existing infrastructure." What I see a lot of other companies do is that they want something done — let's say they want to expand to a new market — what they do is that they just hammer on a lot of spending for new infrastructure, new human resources, and everything else. They just hammer down on that expansion. In comparison to that, what we do is that we lean on existing infrastructure…Once we hit scalability or economics of scale, then we invest into our own networks and our own infrastructure, because by that time, our turnover would match our investment." — Garret Koeswandi, Aplikasi Super
Case Studies
In the table below we outline how these elements are manifested in three companies with commerce and D2C elements, Singapore-based femtech platform Ease Healthcare, Indonesian parenting platform Tentang Anak, and Indonesian social commerce platform Super.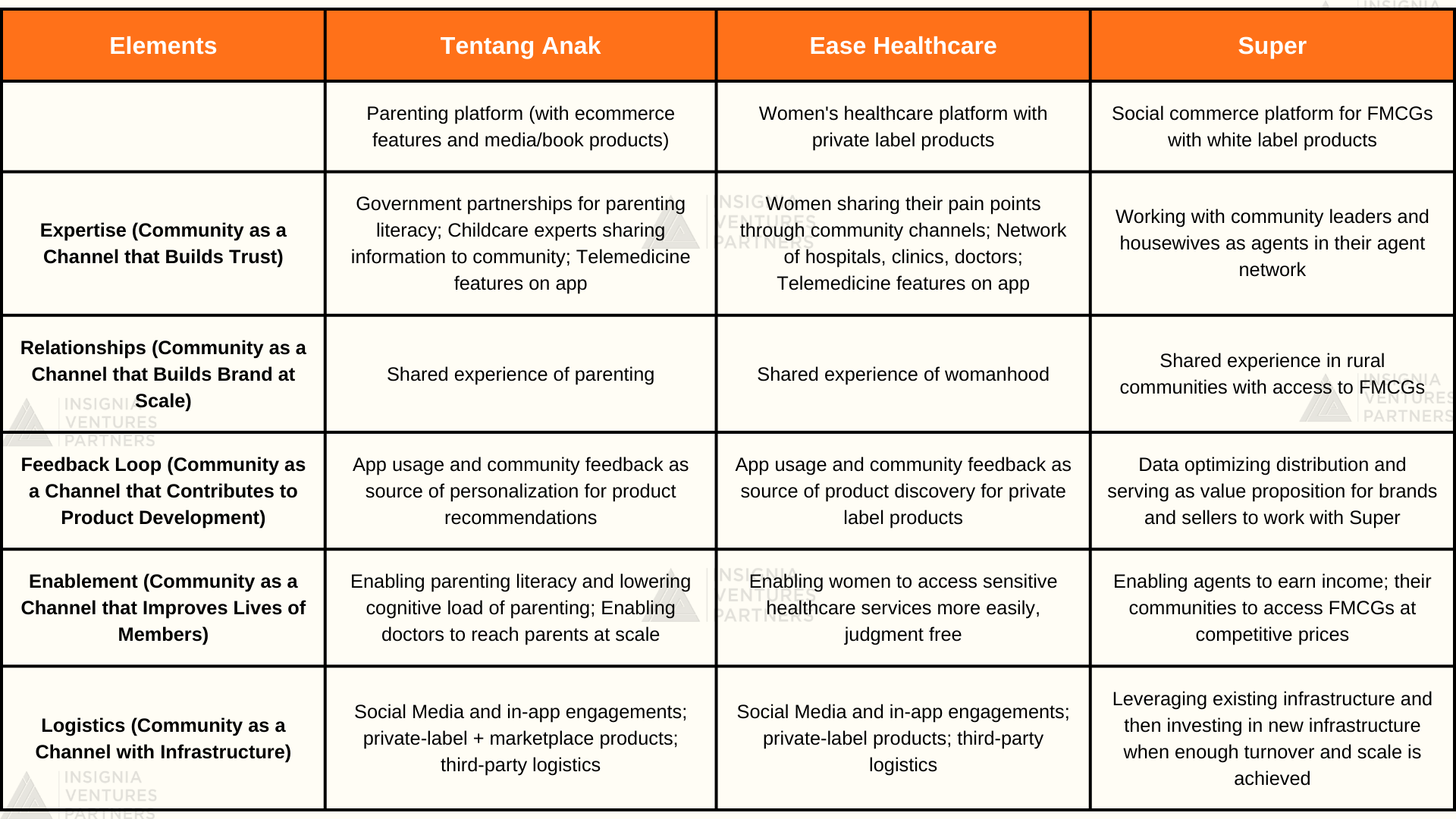 Paulo Joquiño is a writer and content producer for tech companies, and co-author of the book Navigating ASEANnovation. He is currently Editor of Insignia Business Review, the official publication of Insignia Ventures Partners, and senior content strategist for the venture capital firm, where he started right after graduation. As a university student, he took up multiple work opportunities in content and marketing for startups in Asia. These included interning as an associate at G3 Partners, a Seoul-based marketing agency for tech startups, running tech community engagements at coworking space and business community, ASPACE Philippines, and interning at workspace marketplace FlySpaces. He graduated with a BS Management Engineering at Ateneo de Manila University in 2019.
***