Insignia Ventures Partners' Vietnam-based investment team, Senior Investment Analyst Trang Bui and Investment Analyst Mai Bui, shares five insights into the exciting developments and what to expect in Vietnam's fast-growing startup ecosystem in 2022.
Highlights
If 2022 is the door to Vietnam's fintech boom, regulation is the key; it will bring Vietnam fintech adoption out of payments. 

BNPL is just the beginning for real-time, fractional, embedded fintech services in Vietnam. 

Vietnam is at the onset of an accelerated unicorn creation trajectory, but a different flavor. 

Globally dominant cryptocurrency adoption in Vietnam has its roots in culture and social motivations. 

More local founders bode well for the ecosystem, but even local founders need to navigate Vietnam's 63 provinces. 
If you are looking to grow Vietnam's startup ecosystem and the next generation of unicorns as an investor, we continue to expand our team in Vietnam. Email us at career+vn@insignia.vc to apply. 
If you are a founder building a great technology company and market leader in Vietnam, you can pitch us through our website. 
While Singapore and Indonesia still continue to lead most of Southeast Asia's deal flow by a significant margin (27% and 43% respectively in the first half of 2021), we're seeing the rise of tech ecosystems in other markets in the region in terms of funding they've received in recent years. Previously we wrote about the Philippines and how the spike in funding (nearly 50% of the funding startups in the country have raised in the last four years was raised in H1 2021) is a sign of the country's first wave of unicorns finally emerging. 
In this article, we take a look at Vietnam, another country that has been riding a new wave of startup funding and internet economy growth over the past year. Deal value dipped from US$935 million (151 deals) in 2019 to US$691 million (490 deals) in 2020 as the pandemic hit but rose to a record peak at nearly 1.4 billion with only 89 deals in just the first half of 2021. This is a similar trend to what we have been seeing in a lot of Southeast Asian markets, but we can't paint this trend with the same brushstrokes for every single market. 
For example, Vietnam has geographically and politically stood to gain the most out of the US-China manufacturing trade war in 2019, with more multinationals setting up factories and production centers in the country, from Apple all the way to Lego. They were also lauded for being one of the countries in the US to keep cases low in 2020. But then for most of 2021 the country was beset with new waves of infections that led to one of the strictest lockdowns thus far. That said, moving into 2022 the country is embracing a post-pandemic normal at least within its borders and hopes to reopen international travel like most of the world. 
These crests and troughs in Vietnam's pandemic situation over the past two years have only boosted the country's internet economy adoption, with 8 million digital consumers and more than half outside of metro / urban areas. A culture of building personal and communal self-sufficiency has also led to interesting approaches to adopting various sectors, from greater adoption of crypto finance and even renewable energy. 
Our investment team based out of Vietnam shares five insights into the exciting developments in this fast-growing economy, pegged to be the region's leader this 2022 in terms of growth: 
If 2022 is the door to Vietnam's fintech boom, regulation is the key; it will bring Vietnam fintech adoption out of payments. 

BNPL is just the beginning for real-time, fractional, embedded fintech services in Vietnam. 

Vietnam is at the onset of an accelerated unicorn creation trajectory, but a different flavor. 

Globally dominant cryptocurrency adoption in Vietnam has its roots in culture and social motivations. 

More local founders bode well for the ecosystem, but even local founders need to navigate Vietnam's 30+ provinces. 
2022 will be the year of Vietnam's fintech boom
Towards the end of 2021, Vietnam minted its fourth unicorn, Momo. Many media outlets and coverage of the announcement noted that of its unicorns up to that year, three of them provide payments services: VNG with Zalopay, VNLife with VNPay and M-Service with Momo. 
These payment services were critical, to say the least, in laying the foundations for Vietnam's internet economy. The latest unicorn M-service (payment app MoMo) raised a $200 million Series E funding led by Japanese bank Mizuho in December 2021, and is considered the top-of-mind ewallet in Vietnam with the largest market share. Meanwhile VNG's Zalopay is also a top 3 ewallet in terms of MAU and TPV. Then there is VNPAY, the pioneer of QR code payments in the country. 
Despite all this, at present, there is no mutually agreed definition of fintech as well as a single comprehensive instrument for  regulating fintech activities in Vietnam. The currently available fintech regulation mostly revolves around the payment industry. As of January 2022, there are 46 licenses of provision of intermediary payment services granted, which allow the license holders to provide wallet, gateway, financial switch, electronic clearing, support services for payment & wire transfer.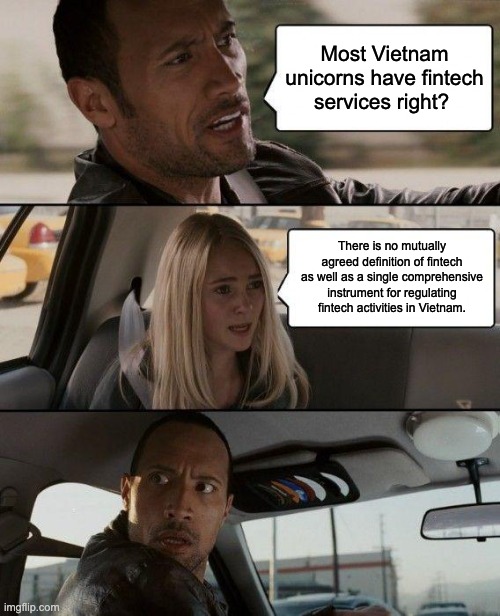 While Vietnam has historically lagged behind other countries in Southeast Asia in terms of regulatory development, there is significant progress that has been made over the past few years. In 2020 the government began the work of establishing a fintech regulatory sandbox to provide regulatory exemptions for certain businesses over a fixed period of time. This allows businesses to develop and test new fintech products, services, and business models. 
The deadline for the official sandbox to launch is this year, with a scope of 7 sub-sectors covered: payments, credit, P2P lending, KYC support, Open API, solutions applying innovative technologies (e.g., blockchain), and other services supporting banking activities (e.g., credit scoring, savings, fundraising).
Apart from the sandbox, it is worth mentioning that the Vietnam Ministry of Finance also granted its highly competitive insurance brokerage license to a tech startup for the very first time in 2021 with Medici, a healthtech and insurtech platform. More structured programs and regimes around the full stack of fintech services, not just payments, will be key to enabling more offerings to be massively adopted in the country, maturing Vietnam's fintech ecosystem. 
BNPL is just the beginning
What happens when you combine easy access to purchase goods online, rising incomes, and low credit penetration (under 10%)? You get buy-now-pay-later or BNPL, which has become a strong consumer trend in Vietnam. With ecommerce adoption driven massively by the global pandemic, people are looking for quick ways to access cash and make purchases on-the-go.  
According to Deloitte's survey of Vietnamese consumers in 2020, the COVID-19 pandemic has changed consumers' habits from in-store shopping to online: up to 76% of young people aged 20-40 have a frequency of shopping online 1-3 times/month through e-commerce sites. Providing a flexible payment term, BNPL is then changing users' transaction behavior away from traditional forms of payment such as pay-on-delivery (COD), credit cards.
Currently the BNPL landscape is already filled with established tech companies MoMo expanding into this service, Indonesian unicorns like Traveloka and Kredivo making headway into Vietnam through BNPL, and business units of conglomerates like Lotte Finance and Vntrip partnering up to offer travel-first-pay-later, and of course emerging fintechs with BNPL as their go-to-market. 
Even then, BNPL providers are not currently considered financial institutions and have not been regulated by the Law on Credit Institutions. The sandbox covering these types of services has also not yet been fully launched, as mentioned in the previous point. With the finalization of Vietnam's fintech sandbox, BNPL has the potential to become the next hot fintech sub-sector beyond payments, and has already attracted new domestic as well as international players.
But this early BNPL boom heralds a lot more than just a shift in the way Vietnamese make ecommerce payments. This trend points towards greater demand for real-time, embedded, and fractional/micro fintech services, like microlending where BNPL falls under.

And as part of microlending, an emerging sub-sector in Vietnam is also earned wage access (EWA), which has been widely adopted in several countries worldwide. Some businesses in Vietnam have already allowed their employees to send requests to get paid earlier than the paying period although EWA is still not a popular concept as BNPL among most Vietnamese employers and employees. That said, besides currently available players, it is noted that some SaaS players are preparing to ride this wave in 2022.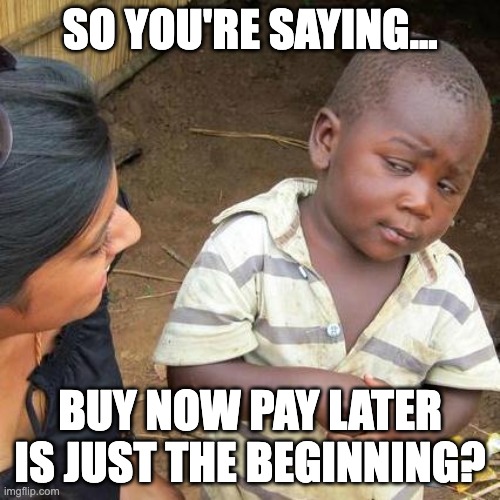 Vietnam's unicorn herd will wear its own stripes
2021 marked a new record for Vietnam's startup ecosystem with the emergence of 2 unicorns, blockchain-based gaming startup Axie Infinity and e-wallet startup MoMo. This was a significant milestone, given that the country's second technology unicorn VNPay achieved the coveted US$1 billion valuation mark 6 years after VNG did. It is no surprise to see this first generation of Vietnam's technology unicorns starting to pay back to the ecosystem. 
Both VNG and VNPay have recently established their own venture arms making strategic and financial investments into local technology startups. Since its inception, VNG Ventures has invested over US$30 million from series A to pre-series B, and Teko Ventures (name of VNPay's venture arm) currently has 8 startups in its portfolio. Moreover, the growth and global ambition of VNG and rising unicorns have also triggered the great return of Vietnamese tech and non-tech talents from abroad.
Besides these unicorns, Vietnamese conglomerates like Vingroup are also doubling down on research and development to boost the adoption of emerging trends like electric vehicles and cutting-edge technologies such as AI, Big Data, IoT. Vingroup's technology member companies include VinAI, VinBigdata, VinCSS, VinHMS, Vantix, and VinBrain. The main beneficiary of the majority of these initiatives so far has been the healthcare industry. As the pandemic is still raging on, Vietnam is fast-tracking both the government's and consumers' embrace of high-tech solutions in public health and preventive medicine like never before.
With dynamic local funding, robust research initiatives, increasing government support, and mass return of foreign-educated talents, Vietnam possesses many of the formulas that give rise to the thriving startup ecosystems in other Southeast Asian countries such as Indonesia. However, compared to Indonesia, whose first generation of unicorns is rooted in ride-hailing and e-commerce with the likes of Gojek, Tokopedia, and Bukalapak, Vietnam's unicorn creation cycle seems to be following the flywheel effect of gaming, local community building, and fintech. 
The booming of "internet cafes" in Vietnam in the 2000s was a catalyst to the rise of the country's gaming industry. At the time, Vietnam was looking closely to its neighbor, China, for technology playbook inspirations. While Vietnam didn't possess sufficient infrastructure for e-commerce services to thrive like in China, licensed online gaming was a simpler tech. After VNG won the contract to launch the Vietnamese version of the Chinese online game "Swordsman Online", the rest is history. 
As the country's first unicorn expands to other verticals, local community building takes off; Vietnam is the only country in Southeast Asia with the most popular local messaging app, VNG's Zalo, not being an import. Following Vietnam's unique unicorn creation trajectory, it might be worth paying attention to startups in the three spaces or those that are able to leverage the common denominators of all three.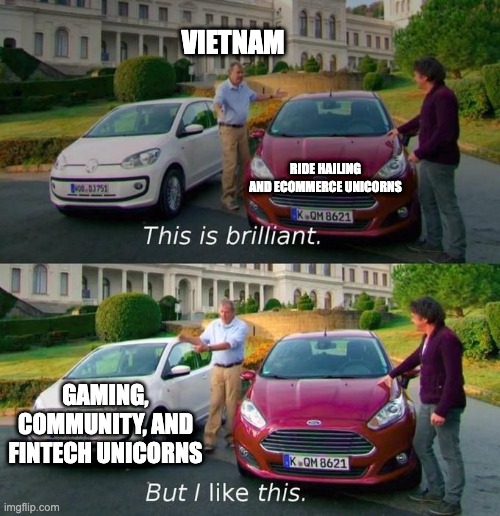 The booming grassroot adoption of cryptocurrency 
According to CNBC, Vietnam dominated the 2021 Global Crypto Adoption Index conducted by the US-headquartered blockchain data firm Chainalysis. The index was based on three metrics and weighted by purchasing power parity per capita: total crypto activity, trading activity of non-professional users, and peer-to-peer exchange trade volume. 
The results might come as a surprise to many people, but with gaming and gambling rooting so deeply in Vietnamese history and folk culture, cryptocurrency seems like a natural progression in Industry 4.0. The data demonstrates that Vietnam is prime to emerge as a rising blockchain ecosystem. And with the ecosystem's already strong suit in gaming, in 2021 alone, at least 6 new blockchain-based gaming companies were launched in Vietnam; they have since raised millions of dollars of fundings. In 2022, we can expect more blockchain and web3 "soonicorns" will arise from Vietnam.
On another layer, the grassroots adoption of cryptocurrency in Vietnam signifies the Vietnamese youth's willingness to diversify their savings away from traditional methods. This again points to tremendous opportunities for fintech companies to launch more innovative savings and investing products.
Already Finhay has been capitalizing on this demand for the past few years, and through the pandemic, saw an even greater increase in the so-called "generational buying moment" that has been observed in many other emerging markets. In 2020, in our conversation with CEO Huy Nghiem, Finhay was already seeing 10x growth in their savings and mutual fund investments products launched less than year prior, and in 2021 the company crossed more than a million accounts opened. What is clear is that regardless of the asset class, Vietnam welcomes more optionality when it comes to savings.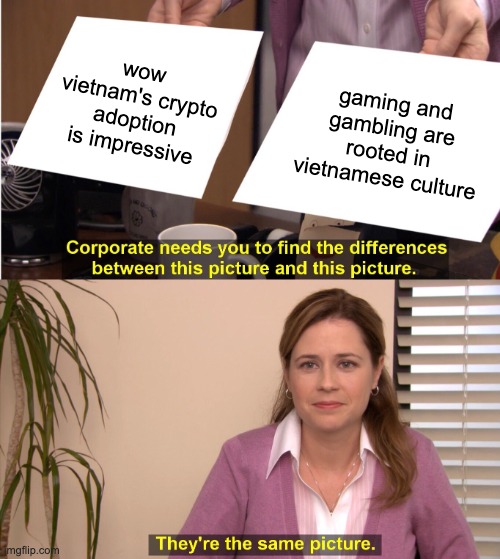 To win, even local startup talent needs to localize
The waves of startup talent in Vietnam's ecosystem were not always local. Initially, many startups were either tapping into what was seen as a "blue ocean" opportunity vis-a-vis other markets in Southeast Asia, or expanding their operations into the country. While not all local, what these initial waves of startups did was hire and mold local Vietnamese into startup operators who then left these companies to found their own startups. They were now armed, not just with operational experience working in a hyper-growth company, but also a deeper understanding of what it takes to navigate the Vietnamese market. 
Some of them even got their ideas and met their co-founders working for these regional and foreign companies. In the case of Vietnam healthtech and insurtech Medici CEO Duc Anh Ngo, his experience working with Grab drivers, coupled with his own personal experiences, shaped the way he developed the idea to connect millions of underserved Vietnamese to quality healthcare services. Over in the edtech space, Linh Dang's experience driving Intel Vietnam's edtech initiatives, specifically through institutional channels, also opened his eyes to the industry and motivated him to start Edmicro with fellow education sector veterans. 
Apart from larger tech incumbents producing experienced local startup talent, local founders are also coming in as returnees from stints studying or working abroad. This is a pattern seen across the region in general. Two of our Vietnam founder CEOs, Finhay's Huy Nghiem and LOGIVAN's Linh Pham, returned to Vietnam from Australia and the UK respectively, thanks to a combination of family, friends, and an overall attraction to what they saw as market opportunities in the country. 
Having more local founders has boosted confidence among investors and also attracted more talent into startups, and while the Vietnamese ecosystem may not have as mature companies as those in Singapore or Indonesia (with perhaps the notable exception of VNG), the game to win in the market is to really redefine the way certain models have been done elsewhere in the world within the context of Vietnam. Local founders are best positioned to do this, especially in highly regulated sectors (wealth management and consumer finance), institutionally and culturally localized sectors (healthcare and education), and highly fragmented sectors (logistics), as we learned on our podcast.
As Duc Anh puts it, "Compared to other markets, Vietnam startup entrepreneurs face some disadvantages. The biggest one I think you can see just by comparing the number of unicorns in Vietnam and its number in Singapore and Indonesia. We have less regional and international exposure since big VCs and start-up hubs are based in Singapore or Indonesia, and our market is still behind those. That's a challenge, but also motivation as a founder to learn more, read more, meet more and build cross-border partnerships with regional VCs and partners, keeping ourselves in pace with the international moves.
On the other side, being a Vietnamese founder doing business in our own motherland also gains us significant advantages. The language, the culture, the local connection is in our DNA. Market understanding has really navigated our business strategies and speed up our rapid nation-wide penetration. After all, Vietnam is still a young market with dynamic growth, and expected to rise even more strongly post Covid-19. We are gaining momentum, and getting ready to ramp up the race."
Even as being a local founder has its operational advantages in Vietnam, localization in the market is not as simple. There is a second level of localization startups, especially those working on consolidating or connecting fragmented sectors, have to deal with, and that's the 63 provinces in the country. 
In the context of Vietnam's K12 market, Edmicro's Linh Dang likens these provinces to "smaller countries" where product-market fit has to be found. He explains this little-known misconception on the podcast, "The K12 market in Vietnam is very much local. I mean, because we have a local curriculum, we have local textbooks, and people in 63 provinces who are [essentially] 63 smaller countries. And the people of Vietnam are quite choosy. They are quite hard to please. They want a product that's not too expensive, but they want the product to be strong in both features and contents.
So we have to understand the customer. We have to be able to offer the right product for the right student or teacher in the different provinces. So that somehow makes Vietnam quite a difficult market for K-12 companies because you have to really invest in the product, in the teams, and in the services that you're offering to the customers."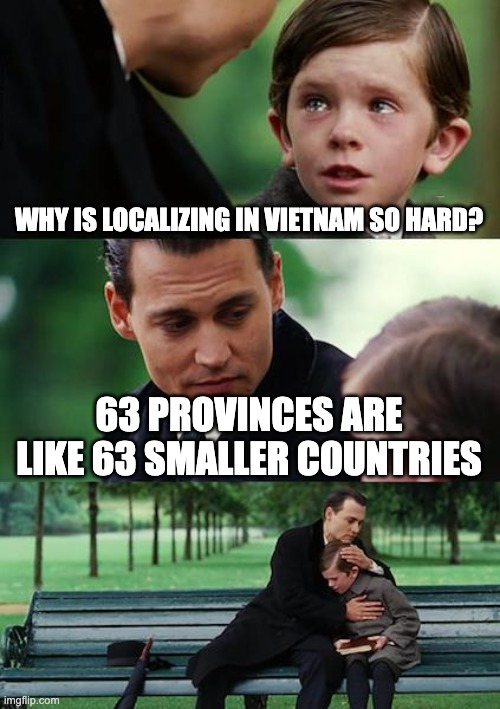 Familiar but not quite the same
One of the things repeatedly said about Southeast Asia, in different ways, is that one can't paint the same brushstroke over the markets in the region. In Vietnam, although regional and global trends have begun to ramp up in the local ecosystem as well (e.g. unicorn creation, crypto adoption, fintech regulation maturing, etc.), they are also manifesting in their unique way, according to the culture and behaviors of the Vietnamese people (e.g. different unicorn verticals, use case for crypto, focus of fintech regulation). Then even within Vietnam there are more layers of nuance to navigate, especially in industries like edtech and healthtech where distribution is localized within provinces. 
For venture capitalists, it will be more important than ever to back founders who are able to translate these global and regional trends into the layers of nuance in the Vietnam market, and that will more often than not require people on the ground to find these capable founders. 
If you are looking to grow Vietnam's startup ecosystem and the next generation of unicorns as an investor, we continue to expand our team in Vietnam. Email us at career+vn@insignia.vc to apply. 
If you are a founder building a great technology company and market leader in Vietnam, you can pitch us through our website. 
***