In this article we dissect parenting in Indonesia, specifically for children 0 to 7 years old, as a venture-backable sector, why we invested in Tentang Anak and the opportunities for a verticalized platform to lead the way in democratizing access and quality products and services for 80 million children in Indonesia and their parents. 
Highlights 
Southeast Asia's internet economy has evolved from ecommerce marketplaces to verticalized platforms capturing a flywheel of products and services that go beyond ecommerce. And Indonesia's latest sector ripe for verticalization? Parenting (from newborns to 7 years old).

Parenting in Indonesia, while very much community-based, has had long-standing fragmentation, with inequitable distribution of quality products and services across a growing population of newborns in the country (around 4.8 million every year). 

Increasing spending (more than US$53 billion in 2020) and greater trust in digital solutions presents an opportunity to meet the needs of parents and children in Indonesia through — you guessed it — a verticalized platform. 

The verticalized platform approach to parenting begins with building a brand of trust. That means expert content and an engaging community. 

There's no one approach to building a verticalized platform — the advantage is in knowing what works for your sector.
When ecommerce is just not cutting it
The rise of generalist ecommerce marketplaces over the past decade in Southeast Asia has opened the floodgates for an array of products and brands to be sold online. 
But more than just the growing cornucopia of items, services, and experiences consumers are able to order online and have delivered to their doorstep (in an increasingly shorter amount of time, as the new meta for last-mile logistics goes), what this ecommerce boom has produced is also a generation of entrepreneurs in the region who are taking advantage of two gaps in these online marketplaces. 
First, some products just can't be sold effectively on generalist marketplaces and are best offered on dedicated platforms. There are products that revolve around needs that cannot just be solved by quick "add to cart" purchases (e.g. books) or multiple purchases at scale (e.g. groceries). Certain lifestyle products (e.g. property, vehicles, insurance) are best offered by marketplaces that are fully dedicated meeting the specific needs of consumers around these products. These needs could include more curated discovery, financing, aftersales services, or education. 
Because of the nature of these products (i.e. cost, usage, selection, aftersales), it is costly and impractical for a generalist marketplace to suddenly pour money into a dedicated platform for these "heavy-duty" products all while still growing their core marketplace, especially considering they are already burning cash on the latter. 
Second, consumers may actually prefer buying into a community or journey rather than individual products. The value proposition of being a trusted presence or partner in a customer's journey around a specific need or experience can far outweigh that of having these related products being sold separately on a generalist marketplace. So even if the products themselves are available on generalist marketplaces, consumers may actually want a platform that goes beyond the individual products and could be their go-to guide or resource and trusted community (i.e. source for expert advice, reviews) where they can make all related purchases and access all related services around a specific area of their life. This applies especially to beauty, fashion, education (supplementary), and health (prescription-less) products.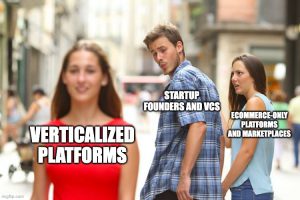 The birth of Indonesia's newest vertical ripe for digitalization
These two gaps have given birth to a generation of "verticalized" platforms and communities revolving around specific needs of consumers or specific consumer segments. This approach goes beyond a purely "ecommerce" approach (which has either proven ineffective for these products or insufficient for the target customers) and creates other products and services to capture entire customer journeys. 
We've covered this particular evolution of internet platforms over the past three years through the investments we've made like Carro (capturing the whole auto retail journey), Pinhome (capturing the whole property transaction journey), Ease Healthcare (capturing women's health needs), or even Super (capturing the FMCGs needs of second-tier and third-tier cities in rural Indonesia).
But what makes this evolution exciting for us as venture capitalists is that there continues to emerge in Southeast Asia areas or needs where the verticalized, digital-first platform is best suited to tackle pain points. One sector we've seen come out of the womb and into the world of digitalization is parenting, especially in Indonesia, and especially for children 0 to 7 years old (around the time when parents spend most of their income on their kids).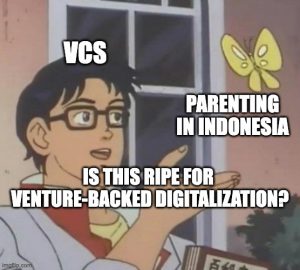 On Feb 11th, Indonesian startup Tentang Anak ("About Children" in Bahasa) announced the launch of their app as a first step towards building out the country's first digital all-in-one parenting ecosystem. We've had the privilege of leading Tentang Anak's first round of funding as they built out and launched their app, and so in this article we look at parenting as a venture-backable vertical through the lens of Indonesia and Tentang Anak.  
Read the official press release on Tentang Anak's app launch and our seed round with them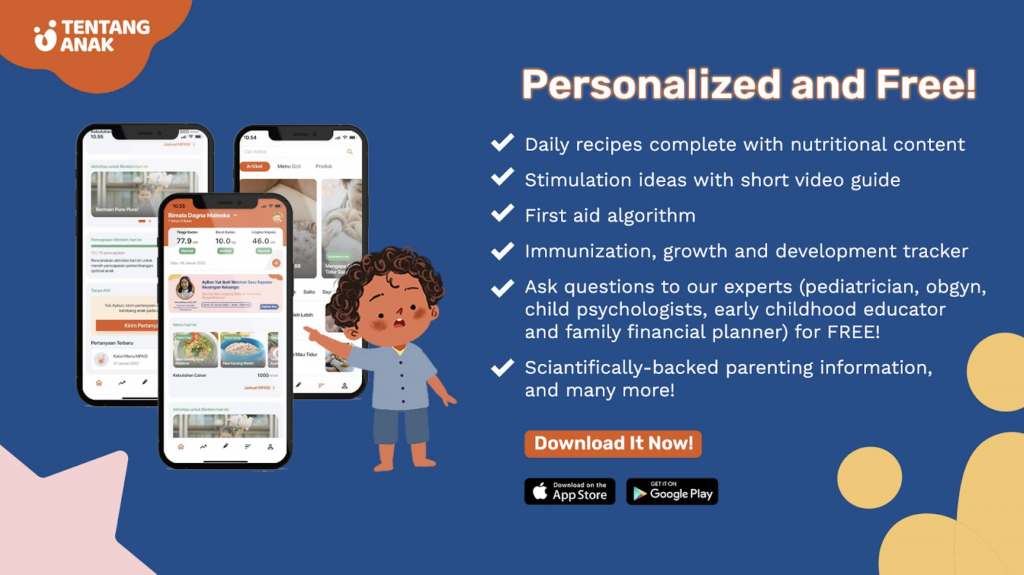 Parenting in Indonesia: Fragmented bandwagons and unmet needs
Communal but fragmented
Parenting in Indonesia has long been characterized by the disparity or discrepancy between the experience on a community level (e.g. among neighbors) and a national level. 
On the one hand, parenting practices have been generational and localized to individual communities, but there is no single or consolidated and trusted source of information for parents on the national level. While communities around motherhood and parenting exist on the national level, they have remained largely fragmented still.
Even as internet adoption has widened in the country, WhatsApp or Facebook groups for moms for example are still centered around local schools or neighborhoods. Moms are going online for their parenting needs but the fragmentation is still there. 
Then parenting as a commercialized industry or sector on the national level has been shaped by foreign products and foreign content, but spending has largely been driven by community-centric adoption or even competitiveness amongst moms around their kids' upbringing (a cultural trait shared by many Asian countries), with influence largely wielded by celebrity parents and higher-income communities.
Gaps in access and quality
This dynamic of having both a "bandwagon effect" on the community level and fragmentation on the national level have only made it more challenging to effectively address the gaps in the quality and quantity of child care products and services. For example, food traditionally fed to babies and young children has not been the healthiest, and this has resulted in high levels of stunting especially in lower-income communities. Then when it comes to healthcare, the pediatrician-to-child ratio has been abysmally low (80 million children vs 5000 pediatricians, as Tentang Anak CEO Mesty Ariotedjo cites in this LinkedIn post) and health records are often poorly tracked with pen-and-paper. 
Growing population and spending
The need to address the gaps in food, healthcare, and access to key products and services for children in Indonesia becomes all the more important considering the growing young population of the country. There are around 4.8 million newborns in Indonesia annually as of 2020 (being top 10 globally and a young population suggests this number will only increase) and spending for children in their first seven years across healthcare, education, and other products surpassing US$53 billion (also expected to continue increasing). 

Spotlight's on Indonesian parenting market (0-7 years old) 
Fragmented distribution. Gaps in access and quality. Growing market and rising spending. The sector has long been ripe for a digital-first verticalized platform to support parents and young children across the entire spectrum of needs (healthcare, education, food, and other products) on the national level. But why is the sector still early today?  
What is different today is that the costs and barriers of tech adoption, especially when it comes to sensitive and health-related issues, has considerably lowered given the plethora of digital platforms out in the market. 
Zooming out globally, there have been a few large companies in the sector like baby monitor maker Owlet which went public via SPAC in 2021, PatPat in China which SoftBank put US$160 million in 2021, and Pinkfong in Korea which became a unicorn also in 2021. But even with all the existing players in more mature markets, Indonesia's population growth and increasing spending on babies and early childhood (0 to 7 years old) present market opportunities that have yet to be maximized. Now the pieces are all coming together for Indonesia and the sector is ripe for a verticalized approach to address the challenges of parents in the country. 

Indonesia's long-standing challenges in parenting and the early nature of the sector in terms of massive tech adoption and disruption in the country drew Mesty Ariotedjo, a pediatrician, and her husband Garri Juanda, a Tokopedia and Rakuten product and growth alumnus, to start Tentang Anak and address the fragmentation (in quality information, products, and services) that has been at the root of many issues faced by parents and children in the country.
Building the parenting flywheel starts with
 trust
Parenting revolves around health
While many vertical-focused platforms across sectors start their flywheel with a marketplace, Mesty and Garri recognized that parenting is a vertical that very much revolves around healthcare. While the decision-maker around parenting products and services are obviously the parents or more specifically the moms, the end-user is ultimately the child and the ideal outcome is a healthy upbringing, in every respect of the word. 
As Mesty writes in this LinkedIn post, "Health is as important as the economy and politics in one country. Therefore, in order to present a better generation in the future, Indonesian children need to grow optimally from an early age. We don't want to waste the first 2 years of their life, because 80% of their brain development occurs at this age."
Read more about this framework and how we applied it to another healthtech portfolio company here

Engaging content and community builds a brand of trust
As we've written in our healthtech articles here and here, trust is at the core of any healthcare solution. And as we've seen with our healthtech portfolio companies, the key to a foundation of trust is often built through curated, accessible, and expert content, whether it's delivered through telemedicine, social media, or in-app libraries. 
For Indonesia, as discussed in the previous section, most commercialized, mass-produced parenting products and services are not localized, and the same goes for widely used content-based apps. This was the blue ocean Mesty and Garri saw for them to plant Tentang Anak and make its first steps in the parenting sector — delivering accessible, expert, curated content through an app that would build a brand of trust amongst its users. This would in turn unlock distribution for a flywheel of products and services based on how these users engage with their content. 
It certainly helps in this regard that Mesty herself is already a pediatrician (completing her Masters in Public Health at Johns Hopkins this year) and one of the most followed millennial pediatrician influencers (237K on Instagram @mestyariotedjo) in Indonesia. Tentang Anak, thanks to Mesty's own professional background and network, was then able to bring together a strong network of pediatricians, psychologists, child educators, financial planners, obgyns, and other child care professionals. This network fuels the app's content, which include personalized child stimulation activities, nutritional menus, growth trackers, free consultations, and community engagement for Indonesian parents on everything child development.    
Around this science-based content Tentang Anak has grown its community of parents, initially through social media (becoming Indonesia #1 most followed TikTok parenting account) and now on their newly launched app as well, which quickly rose through the ranks on App Store (#3 for Education) and Google Play Store (#4 for Parenting) just two months after its release. This localized community is not just the foundation for content distribution, but also the feedback loop critical for any platform to grow (i.e. the platform learning from its users).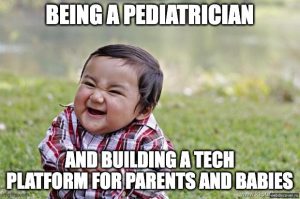 Growing the flywheel: nature of the sector meets unicorn talent
Apart from having the relevant expert network to build trust through content, it is also important to be in a prime position to grow the content and community platform flywheel of products and services. 
Already the nature of the sector lends itself naturally to expansion, with the evolving needs of their customer base as children grow up (i.e. being that all-in-one platform for children's needs from 0 to 7 years old) and the communal culture of child-rearing in Indonesia (also moms in general trust other moms). And while monetizable adoption may initially be limited to higher income families, reaching more families across income classes and geographies in the country is a matter of time and scale.  
Then in terms of capabilities, Garri comes into the picture with his experience growing Tokopedia's own flywheel of services at the unicorn's CEO office, and their early team has attracted leaders from the likes of Gojek and Sea Group's Shopee who have seen firsthand what it takes to build and run various aspects of multi-product tech companies. 
All these components we've covered — strong child care expert network fueling science-based content on their app, relevant backgrounds of the founding team, and a growing local community — contribute to the brand of trust that is foundational for Tentang Anak's parenting flywheel. If anything, the tradition of Indonesian childcare being very much communal continues through the company; it's all about bringing the right stakeholders. But this time, through this tech-enabled community (expert, team, users), they'll be supporting the upbringing of Indonesian children at scale.
Join Tentang Anak's team by checking out for open roles and reaching out to them on their LinkedIn page, or reaching out through us at career@insignia.vc. 
In localization we trust
Parenting is just one of many sectors we expect verticalized platforms not only to emerge but also dominate in terms of consumer adoption — there's agriculture, fisheries, sneakers, beauty products, even electric vehicles (just consider the variety of lifestyle choices we make and daily needs we have throughout our lives). 
That said, there's no one path to building a verticalized platform and capturing an entire customer journey. Tentang Anak's approach to parenting is set to prove once again the advantage of understanding and adapting to the dynamics and pain points of the sector. In a word, localization.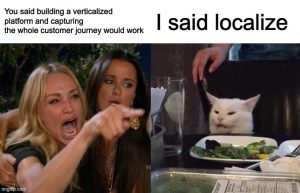 Paulo Joquiño is a writer and content producer for tech companies, and co-author of the book Navigating ASEANnovation. He is currently Editor of Insignia Business Review, the official publication of Insignia Ventures Partners, and senior content strategist for the venture capital firm, where he started right after graduation. As a university student, he took up multiple work opportunities in content and marketing for startups in Asia. These included interning as an associate at G3 Partners, a Seoul-based marketing agency for tech startups, running tech community engagements at coworking space and business community, ASPACE Philippines, and interning at workspace marketplace FlySpaces. He graduated with a BS Management Engineering at Ateneo de Manila University in 2019.
***