Boosted by consumer behavior shifts due to the pandemic, Indonesia's e-grocery space has seen massive growth in terms of users and funding, but it's clear from this article that its full potential has yet to be unlocked with many cities in rural Indonesia still unable to access this level of convenience and affordability. Radius is stepping out of quick commerce's comfort zone and blitzscaling through rural Indonesia, realizing not just the untapped opportunity but the long-term economic impact they can bring with their platform. 
Highlights
While ecommerce, and specifically egroceries, boomed thanks to the pandemic, its effects were not felt everywhere, especially in rural Indonesia, where people were still forced to go outside to buy daily essentials.
This inequality has long existed even as rural Indonesia has a larger population and has just as high of smartphone penetration as cities like Jakarta. Together with traditional retail ripe of digitalization, the grocery market in Indonesia adds up to US$207 billion.
Radius stands out as a quick commerce startup by focusing on second-tier and third-tier cities. By doing so the company is not just riding on a trend, but also driving more economic equality.
—-
We're surely familiar with how ecommerce has been getting its day in the sun thanks to the lockdowns and people were forced to use any of the plethora of online providers available in their area. Daily essentials, FMCGs, and grocery products were especially impacted by this demand translated into online platforms.  
But this ecommerce trend was, and continues to be, not equitable everywhere. In tier-2 cities and rural Indonesia, areas where access to groceries can already be challenging, the infrastructure gaps became more apparent when, even during the throes of the pandemic, residents still opted to go to their offline supermarkets simply because there weren't any online services good enough to meet their needs. Meanwhile urban areas and megacities like Jakarta were flooded with e-grocery platforms. 
Where massive scarcity meets massive opportunity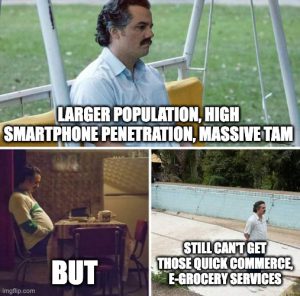 This inequality juxtaposed with the massive, largely untapped opportunity for fast, cost-effective, and convenient e-grocery in rural Indonesia paints a jarring picture. 
Just the rural metros and tier 2 cities in Indonesia house more than 160 million people and already have as high of a smartphone penetration as Jakarta (more than 80%). Rural Indonesia's e-grocery market is now already worth roughly 70% of the total e-grocery market, and together with the traditional retail also ripe for digitalization makes up a US$207 billion grocery market. And what's more is that this market potential is expected to increase 5x in the next five years!
But then there's a scarcity of online providers, charging more than US$3 in delivery fees and taking days to deliver, ultimately forcing customers to opt for the "lesser evil": offline supermarkets. 
While quick commerce has been the frenzy and flavor of the month for many investors, the value a quick commerce platform could provide on top of a strong tech-enabled supply chain network would be able to close long-standing infrastructure gaps in rural Indonesia. 
Increasing the impact radius of quick commerce in rural Indonesia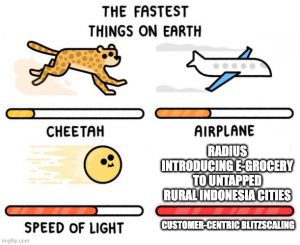 That's where Radius comes in, finally enabling customers in rural Indonesia to have that option to purchase their day-to-day essentials from the comfort of their home. 
Founded in 2021 by Ivan Darmawan and Stephanie Wongsoredjo, who have both worked and tech and supply chain companies including Maersk, Grab, Traveloka, and IBM, with family backgrounds of 40+ years in retail and FMCG business in tier 2 cities, the company is no way short of the industry and local resources needed to tackle the massive opportunity across cities in the archipelago. 
Since launching, they've been on the blitzscale path, consistently extending their services to city after city, which you can follow on their LinkedIn page, and increasing the radius of their network of dark stores across the country. 
While similar companies in the quick commerce and e-grocery space like global player JOKR, Gorillas and Gopuff in the US, or even Getir in Turkey have grown significantly and raised more than US$3 billion in cumulative funding rounds in under a year, getting to the same scale in Indonesia requires a lot more tailoring to the purchasing behavior and manpower distribution in the country.
That said, it doesn't hurt to gain a global perspective. More recently Radius graduated from the Winter 2022 cohort of the global accelerator program Y Combinator, where they've been able to sharpen their customer-centric growth fundamentals and quickly apply it to their current growth trajectory. With each new city that comes within the 15-minute delivery guarantee of their service, there's more to gain not just in terms of company growth, but also learnings from the households they serve, and that ultimately strengthens their early mover advantage. 
The long-term economic equality vision of quick commerce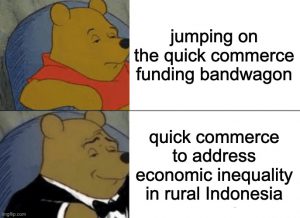 At the end of the day, the founders and the Radius team are grounded by the impact they are able to make on long-term economic equality through rural Indonesia's future with quick commerce. 
As Radius co-founder Ivan Darmawan shares with us, "The whole of Indonesia is growing really fast, not just Jakarta. In fact, cities outside of Jakarta are going to have 5x economic growth by 2025 supported by the digital economy. The government is also moving the capital city to outside of Jakarta, in an effort to distribute economic equality across Indonesia, and we expect even faster growth from tier 2 cities from this development." 
"However, there are no players that care to bring convenience to these cities. That's where we come in with this mission to bring convenience and economic equality in Indonesia, and increase online grocery penetration to 5% for these tier 2 cities within the next few years. Tackling groceries is a powerful go-to-market because it's a daily need and applicable to the mass market." 
This future of quick commerce ties in with the democratization of economic growth Indonesia has been experiencing the past few years, increased further by the movement of the country's political capital. 
More than the economic redistribution quick commerce and dark stores can drive across rural Indonesia, there is also the talent redistribution as well, with more blue collar workers and tech talent no longer having to look for quality work opportunities in tier 1 cities. 
While quick commerce seemingly couldn't come fast enough to rural Indonesia until Radius arrived, now that it has, it's clearly not just a fad, and platforms like Radius are here to stay and grow.
Paulo Joquiño is a writer and content producer for tech companies, and co-author of the book Navigating ASEANnovation. He is currently Editor of Insignia Business Review, the official publication of Insignia Ventures Partners, and senior content strategist for the venture capital firm, where he started right after graduation. As a university student, he took up multiple work opportunities in content and marketing for startups in Asia. These included interning as an associate at G3 Partners, a Seoul-based marketing agency for tech startups, running tech community engagements at coworking space and business community, ASPACE Philippines, and interning at workspace marketplace FlySpaces. He graduated with a BS Management Engineering at Ateneo de Manila University in 2019.
***