In this article, we curate learnings, as shared on our podcast, from Insignia founders who have gone through the Y Combinator program: how the program has impacted their entrepreneurial journey and startup growth.
Highlights
The YC experience is really what you make it to be, from the admission process to the networks.
Building customer-centric products unlocks sustainable market expansion, effective digitalization, and company growth (as opposed to just hiring more people).
People and branding (as part of the company's larger story) are two of the key long-term value-adds that startups should focus on leveraging from early-stage investors and ecosystem programs like YC.
—–  
Y Combinator's Winter 2022 cohort has just wrapped up, and the numbers are in. Southeast Asia startups flocking from the global accelerator bearing the branding, networks, learnings, and funding that come with being alumni have doubled from the previous cohort. The progressive increase in Southeast Asia's share of the seasonal cohorts is part of a larger picture of more early-stage companies getting the spotlight and garnering the interest of global investors (as opposed to Series C companies and later).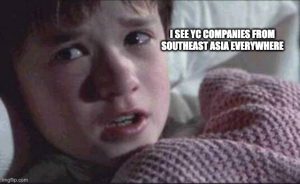 Since Insignia Ventures was founded and made its first investments in 2017, the firm has had the privilege of backing several YC companies, from the first Indonesian startup to join (Payfazz) to the first Indonesian AI startup to join (Verihubs). Some announced their first check with us right after their cohort, while most we've supported in their growth many months or even years before they joined. 
From our conversations with some of the founders of these companies on our podcast, we handpicked some of the best insights into what they've gained from the experience with respect to company building, how they've made the most out of the program itself, and how this early global exposure and resources have impacted their rapid growth.  

"It has been a really good experience for us, [even just] the admission"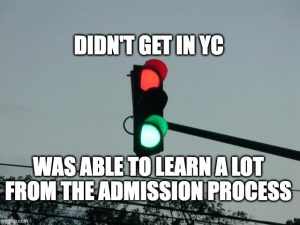 In our conversation with Credibook CEO and co-founder Gabriel Frans, he talks about the program's admission process and how it can already help founders zoom out from the grind and really reflect on where the product they are building is headed. 
"Y Combinator has a very interesting admission process. So a lot of YC founders mentioned that in the process itself, you can [already] reflect on your company or your product. So we also experienced that. We learned a lot about our product and company [through the] admission process and the interview process because of the questions that they bring up and so on, but it has been a really good experience for us, [even just] the admission…What I can say is that as you mentioned, regardless if you get accepted or not, you can always use that admission process to reflect on what you are doing and how you are doing with your product and your company." 
It was an interesting observation as the narrative for the program has always revolved around "getting accepted" and so less attention has been paid to the journey getting there. But being a product guy at heart and sharing with the product-focused values of YC helped Gabriel maximize the learnings even from Credibook's application.
"I can say I'm a real product guy at heart. So [I share] the same values with YC, where they really focused on product, on assisting your users, on listening to your users and their pain points. And that's [why] I feel that I really fit into the program…We talk to our users a lot and we really listen to them."
"The value you get from it is really self-driven."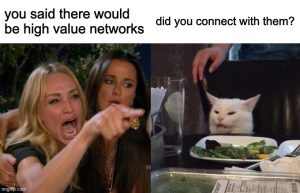 When Asia's fastest-growing mental health Intellect joined YC amidst the pandemic, the company was part of one of the early cohorts to participate in the program fully remotely. CEO and co-founder Theodoric Chew shares the challenges and opportunities of this arrangement.
"I think the challenge here is that YC traditionally has been done in person in the US, in San Francisco, I think we were probably the second or third cohort that has been doing it remotely. So we did it fully virtual, fully remote. I'm in Singapore, so [I did the program] based out of Singapore. 
The good and the bad thing is [that it is remote]. [On one hand], I had time towards my working hours, to focus on the business. YC hours were my off-hours. The bad side was that it was from midnight to like 3 am for many, many nights. So I had a couple of sleep-wrecked nights. But overall it was a great balance where it didn't detract us too much from actually doing business, given that we're still a quite tight-knit team. I get involved in most things in the company as well and so that's kind of obvious."
Because the program was integrated into his usual schedule and he would spend days working on the Intellect and nights on YC, it became an experience quite unique to him and for Intellect. For Theo, maximizing the value of the program is all about balancing what you expect and what you go the extra mile to get out of it.
"But overall YC is, for people that are thinking about it, the right balance of hands-on and also hands-off in a sense. You work with great partners that have experienced starting companies, growing things, and they give you feedback when you need it. But they weren't trying to [always ask] "Hey, how are things?" and then I keep bugging [us]. It's not too much [like] school, but it's really where you actually drive your own growth with great guidance…It definitely depends from company to company itself. What I can share from my own experience is that it's a huge value add if you use it right.
So for folks who are coming [in the program already], back to what I mentioned earlier, the value you get from it is really self-driven. If you make the most of it and you make the extra effort to go above and beyond the curriculum, to connect with your batch or partners, it's up to you to book the partners if you wish as well. And that's how you make the most value out of it. It works really well if people are keen to take full use of it. And if you don't want to touch it as well, it's kinda up to your call. It works well for folks who are really keen to fully utilize the network and the access you get in the program after the program."
"We learned to focus on customer experience and fundamentals in the first few months."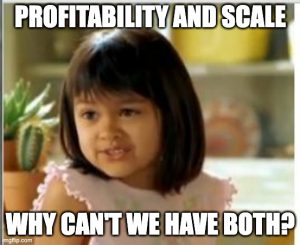 One of the key highlights of YC's philosophy is the focus on building customer-centric products. This proved to be a key learning for Radius, a fast-emerging quick commerce platform for rural Indonesia, as shared by CEO and co-founder Ivan Darmawan. 
"YC has been instrumental in pointing us to the right direction: to scale fast as a sustainable business. Most companies tend to just focus on massive growth, while we learned to focus on customer experience and fundamentals in the first few months. We talked to all of our customers and went to around 500 households to learn about their needs. Now we are blitzscaling real fast while maintaining positive unit economics."
Ivan shares more about Radius's unique focus on rural Indonesia and why quick commerce is more compelling long-term for second-tier and third-tier cities in the country
"It's not about how advanced [our] AI technology is, but it's about how your AI technology solves the problem"
Going back to the customer-centric philosophy, it doesn't matter as much how advanced the technology behind the product is, but whether or not the technology actually solves the key pain points of the user. In a word: product-market fit. 
As CEO and co-founder of the first Indonesian AI startup to join the program, it comes to no surprise that one of Rick Firnando's key takeaways revolves around the value of focusing on product-market fit with respect to building products that utilize artificial intelligence as a key part of the value proposition. 
"The most important lesson for us is that it's not about how advanced [our] AI technology is, but it's about how your AI technology solves the problem, especially the most painful problem for customers. And it's okay to not have a perfect solution as long as it solves the problem at the moment. And of course, we believe that we always need to iterate our product from time to time, so we can give better service to our customers."
Product-market fit seems like an overworn startup cliche but it is a first principle for startup building for a reason. It also ties into Ivan's learning where scale for the sake of scale isn't as sustainable as it is to scale with the customer. 
"Don't throw people to problems, but develop solutions that are scalable with software."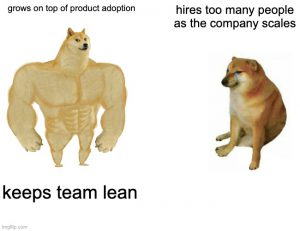 The CEO and co-founder of fast-growing Indonesian insurtech marketplace Lifepal experienced the YC program when he was part of the founding team of all-in-one finance OS platform Aspire. Even though he left to start his own venture, he brought learnings from the program into Lifepal's Policybazaar-esque approach to digitizing insurance in Indonesia. Specifically, leveraging technology and product to scale. 
"Scale the business with technology and product. Don't throw people to problems, but develop solutions that are scalable with software. We apply this principle in Lifepal. We haven't increased our headcount, just a little bit, since January last year (2020). So it's been really a year where the headcount has been flat but we are growing tremendously just with technology and product."
If true product-market fit is unlocked, it makes sense that scale is best achieved by replicating that product-market fit across market segments. 
"You need to leverage people around you. You need to bring a good set of investors who can support you from the investment side and also be a good board of directors."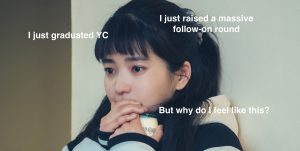 Fazz Financial CEO Hendra Kwik's insight shared from his conversation with us in the season 3 premiere of our show has been shared across several articles on this blog, but it bears repeating, especially in the context of the long-term impact of global exposure through programs like YC. 
Ultimately YC, as with many early-stage funding channels and accelerators, is not there to solve the challenge of startup growth. Every company is unique in its experience, and only the founders would know best how to tackle challenges along the way. 
That said, raising early-stage funding, more than the funding itself, has long-term value in the networks these fundraises bring, and according to Hendra, that's what founders should leverage from their investors. 
"In the early days, when I raised Payfazz's first ticket from Insignia and the first ticket from YC, I thought that after I have money, problems will be solved, but actually, you will have another problem. Right after Series A, you have another problem. After Series B you think your problems are solved, but actually, you will have another set of struggles and you will realize that actually, it's normal, that you will always find these hardships.
And it will be impossible for you to solve it alone. So that's why I keep mentioning people. You need to leverage people around you. You need to bring a good set of investors who can support you from the investment side, and also be a good board of directors. They can be good people to support you in your decision-making. A good C-level and good team members can be the people to help you execute [on your decisions]. Don't try to do everything alone because that's going to drive you crazy. And maybe a lot of founders try to do everything themselves and that will make them feel really stressed and depressed.
So that's what I want to share with founders: focus on people. In this case, I'm not only talking about the people that you recruit, but also the people on your board and the people that are brought by your investors, because they can influence a lot in your company." 
Interestingly enough, when it comes to focusing on people, especially investors, Hendra speaks directly from experience. One of his earliest angel investors Tianwei Liu, CEO of fellow YC alum Xfers, connected with him on Slack even before Payfazz officially joined YC, and this relationship eventually led to the formation of regional fintech group Fazz Financial three to four years later. Tianwei shares the story on our podcast.
"So Hendra and I have a long history. Funny thing is, he was in YC. I was in YC, but I think I was a batch ahead because of some visa issues. He was the first Indonesian founder; he [couldn't] come there. So we were in some group and one day [he] sent an email to all the people in that group. And I think somehow I was the only one who replied for some reason. I don't know why I did that. Sometimes it's just serendipity and I replied. And he was like hanging out with me, then he eventually wanted to start fundraising because he can't go to the Valley then. 
So he was delayed at that for a year. He came to Singapore; I was hosting him at my house, I just said, "Bond with me. And then we will figure out how to fundraise." And I really liked some of the things that he was doing [with] financial inclusion, which is a common vision that we have. Financial access [and] financial inclusion of a different space and just different geography. So I also became [their] angel investor. Then he was expanding [across] Indonesia, which I think was a very, very important bucket that eventually we want to [build for] Xfers. Fast forward, he eventually managed to get into YC in person. 
And the rest of the folks [came], it was like, I think 2017, 2018 [when] Xfers was looking to expand to Indonesia and guess who I know in Indonesia? I only knew Hendra. So I went on a plane flight and one of the few people that I hang out with over there has always been Hendra. So we knew each other for quite some time. So there was a strong relationship right there."
"I remembered the feeling of going through a Y Combinator interview…And we also found out that we got in on the same day."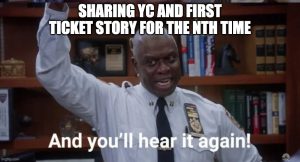 Experiences like YC ultimately become part of a startup's and entrepreneur's narrative, and so for every company that goes through the program, being able to tell that story is important. For K12 test prep edtech Pahamify CEO Syarif Rousyan Fikri, learning the "science of startups" in the program was a key part of his journey as an entrepreneur, gaining what he calls "lucky networks" and learning the value of focus amidst the many roads "leading to Rome". 
For Shipper co-founder and COO Budi Handoko, in a LinkedIn post on his recognition in the Tatler Asia 2021 Gen T list, getting into YC in 2019 was a key milestone in the company's journey, after his co-founder and CEO Phil joined in 2018 and Insignia Ventures wrote him his first check in 2017. 
"It was 2017 and I still remember clearly when Yinglan Tan [from] Insignia Ventures Partners wrote the first check of $350,000 for us, someone pretty new in Indonesia, building an aggregator in the logistics space. In 2018, I also remembered clearly when Phil Opamuratawongse and I partnered to build Shipper to the next level.
In 2019, exactly on the 2nd Jan, I remembered the feeling of going through a Y Combinator interview together with Phil after spending our New Year's day practicing (accompanied by lots of coffee). And we also found out that we got in on the same day."
As the population of startups in Southeast Asia increases, we can expect more diverse cohorts of companies from the region to be a part of Y Combinator, and on the other side of the table, more accelerators and early-stage support systems to emerge for the region especially. 
Paulo Joquiño is a writer and content producer for tech companies, and co-author of the book Navigating ASEANnovation. He is currently Editor of Insignia Business Review, the official publication of Insignia Ventures Partners, and senior content strategist for the venture capital firm, where he started right after graduation. As a university student, he took up multiple work opportunities in content and marketing for startups in Asia. These included interning as an associate at G3 Partners, a Seoul-based marketing agency for tech startups, running tech community engagements at coworking space and business community, ASPACE Philippines, and interning at workspace marketplace FlySpaces. He graduated with a BS Management Engineering at Ateneo de Manila University in 2019.
***