As Q1 2022 comes to a close, we do a rare sharing of our monthly newsletter editorial from January 2022 and pair it with some of the TikTok podcast snippets we've been putting up and of course, memes. 
Coming from such a landmark year for digitalization in Southeast Asia, the question now is how will 2022 build on the progress and achievements of the past year, all the while handling the challenges of coming out of a pandemic, political and economic uncertainties, and longstanding issues that remain largely unaddressed? One significant theme we see is the increasing need to update and improve the infrastructure across our daily lives, from the internet infrastructure we depend on to the infrastructure running our planet.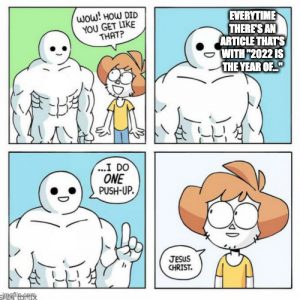 (1) Infrastructure For Business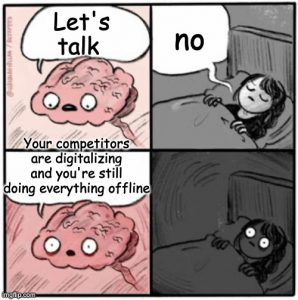 With Southeast Asia's consumer platforms facing an influx of usage and diversity of use cases only expected to increase exponentially in the years to come, there will be more demand for the "backend" and "enabler" layers of consumer experiences and transactions, from data "supermarkets" for banking to O2O operating software for logistics or even cybersecurity solutions. Businesses across the board have been adopting these tech layers in order to meet the shift in consumer behavior.
Examples on TikTok:
Credibook's mobile-first financial and ops management software and B2B wholesaler marketplace enabling wholesaler SMEs to digitize their back-end operations 
Verihubs with their verification solutions platform enabling fintechs and digital channels of financial institutions to build better user experiences faster and cheaper
Eezee enabling enterprise to digitize their B2B transactions
(2) Infrastructure For Living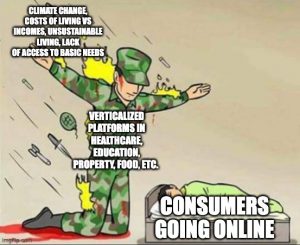 From health to education to the food we eat, the houses we live in, and the environment's sustainability, these aspects of our lives that allow us to go about our day-to-day will continue to take a greater spotlight as new ventures seek to redefine the infrastructure underlying these oftentimes broken systems (e.g. how healthcare and education are delivered to all or how meats are processed) and consumers become more comfortable with these "alternatives".
For these solutions to truly have widespread impact, infrastructure-focused solutions will have to work hand-in-hand with regulations and institutional players. And while a lot of these solutions will try to sell on social good and sustainability (ESG), the winning pitch will often boil down to costs vis-a-vis results.
For example:
Tentang Anak scaling their parenting platform through a strong network of doctors and childcare experts (supported by Indonesia's Pediatric Association), reducing costs for parents to seek medical and childcare advice 
Pahamify on being in the business of helping students fulfill their potential, reducing costs for students to 
Float Foods' flagship alternative protein whole egg OnlyEg gearing up for commercialization with its PCT patent filing for OnlyEg's nutritional enhancements
(Follow us on TikTok and stay tuned for snippets with Float Foods in the next few weeks!)
(3) Infrastructure For the Internet
This infrastructure wave extends goes beyond the internet as we know it today, as demand for digital assets and crypto ushers in solutions for web3 developers to build and web3 asset investors to navigate new protocols.
—
To get monthly perspectives on Southeast Asia's rapidly developing tech ecosystem, you can sign up to our newsletter Insignia Insights.
Paulo Joquiño is a writer and content producer for tech companies, and co-author of the book Navigating ASEANnovation. He is currently Editor of Insignia Business Review, the official publication of Insignia Ventures Partners, and senior content strategist for the venture capital firm, where he started right after graduation. As a university student, he took up multiple work opportunities in content and marketing for startups in Asia. These included interning as an associate at G3 Partners, a Seoul-based marketing agency for tech startups, running tech community engagements at coworking space and business community, ASPACE Philippines, and interning at workspace marketplace FlySpaces. He graduated with a BS Management Engineering at Ateneo de Manila University in 2019.
***