With the shifts in investment sentiments and fundraising over the past month, we share our monthly newsletter editorial from May 2022 and pair it with some of the TikTok podcast snippets we've been putting up and of course, memes. 
The shockwave of losses over the past month that has rippled through public tech giants, global tech investors, private venture-backed tech companies, and even cryptocurrencies spell an early winter this 2022 for fundraising as investors reel from the impact, gain leverage, and tighten belts. Southeast Asia is no exception.
At the same time, it is during these harsh (and often sequential) market adjustments that enduring companies are minted by stronger business fundamentals and rapid movements in resources (capital and talent). 
(1) Keep the fire burning, but not the expenses. In early 2020, we wrote articles like this on keeping burn low and the On Call with Insignia podcast launched Season 1 with an episode primarily on fundraising and cost-cutting strategies. The same combination of cutting costs while being flexible and early in fundraising will apply but the measures will have to match the more severe and potentially longer winter this time around.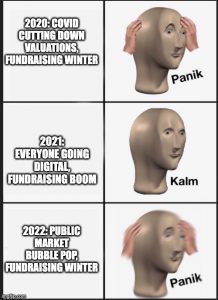 Recommended Listens and TikToks:
We've also had the privilege of having on call back in December 2020 Ernest Chew, CFO of Carro, who came into the company amidst the initial impact of the pandemic and shared some insight into how management handled cost-cutting and taking advantage of growth opportunities.
@vcinsider "I really see this journey as a marathon 🏃‍♂️. And then that helps your mindset because then you start pacing yourself so you literally don't mentally burn out because it's a roller coaster ride 🎢. And I think what certainly helps is…you've got your whole organization culturally bought into achieving this vision and you start solving problems." – AwanTunai's Dino Setiawan on On Call with Insignia Season 3 #podcast🎙#business #leadership #inspiration ♬ original sound – The VC Insider
(2) Plan's not enough; can you execute? The digitalization revolution in Southeast Asia will continue to mature and evolve in the long term. The question is which companies will make it through as leaders of the pack? Plans are great and all, but are the companies equipped with the fundamentals for their target trajectories? 
Over the past month, we wrote about what it takes to build product flywheels that drive SME digitalization, and dig deeper into case studies on Indonesia's cold chain fisheries businesses or SME wholesalers. We also covered how Indonesian fintechs are leveraging M&As and investments to also equip themselves with the fundamentals for their own "digital banking" propositions.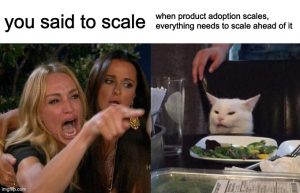 Recommended TikToks:
We also covered Indonesia's fashion industry with Wifkain CEO Sara Sofyan and why it needs its own localized software company to drive digital transformation
Digitalization is inevitable for SMEs, so it's a matter of "who" and "how" as AwanTunai CEO Dino Setiawan shared on our podcast.
We stitched together the journey of Fazz Financial Group from rural Indonesia fintech Payfazz to a regional fintech group building for SMEs, from the perspective of both Fazz Financial CEO Hendra Kwik and Deputy CEO Tianwei Liu.
The CTO and VP of Engineering of Indonesia's largest tech-enabled logistics platform and network go on our podcast to share their tech perspective on building the operating software for ecommerce logistics in the country.
(3) DIY mafia. The public tech valuation drops, combined with greater openness to remote or hybrid work and borders slowly reopening, means that we can expect a great reshuffling of tech operator talent. For smaller companies still private this is an opportunity to leverage cash saved from cost-cutting and actually put it to good, long-term use, like a key leadership hire.
We could see a new generation of "mafia" coming out of this. We cover the learnings of those who came from Gojek and Tokopedia, and what other startups can learn from how they produced a sought-after generation of startup leaders. 
The fundraising landscape's temperature is dropping, but when it gets cold the last thing you want to do is stay still. Decisions made during this period, whether cost-cutting, tackling "un-sexy" industries, M&As, or hiring from the tech talent exodus, can and will spell the difference between market leadership and falling by the wayside.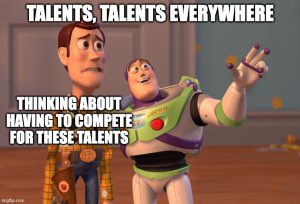 Recommended TikToks:
Former Gojek VP of Product and now AwanTunai co-founder and CPO Windy Natriavi shares her learnings on product management and scaling product teams on our podcast
Bukalapak alum and now Head of People for fast-growing Eastern Indonesia social commerce platform Super Nabil Ishak shares learnings from his time at the unicorn and how that's shaped his approach to growing Super's talent as well on this new episode of "A Leader A Minute".
In this snippet, Tentang Anak CEO Mesty Ariotedjo, who co-founded the parenting tech startup with her husband Tokopedia alum Garri Juanda, shares the importance of building a team that reflects their core users.
—
To get monthly perspectives on Southeast Asia's rapidly developing tech ecosystem, you can sign up to our newsletter Insignia Insights.
Paulo Joquiño is a writer and content producer for tech companies, and co-author of the book Navigating ASEANnovation. He is currently Editor of Insignia Business Review, the official publication of Insignia Ventures Partners, and senior content strategist for the venture capital firm, where he started right after graduation. As a university student, he took up multiple work opportunities in content and marketing for startups in Asia. These included interning as an associate at G3 Partners, a Seoul-based marketing agency for tech startups, running tech community engagements at coworking space and business community, ASPACE Philippines, and interning at workspace marketplace FlySpaces. He graduated with a BS Management Engineering at Ateneo de Manila University in 2019.
***