Contrary to what many might think, it is possible to invest in great businesses that not only produce good returns for VC funds within a reasonable timeframe, but also have a massive positive impact on our planet. 
Misconception 1: Sustainable can be profitable
Sustainability and profits are not mutually exclusive. Companies like Solugen illustrate this point. They are trying to replace the dirtiest ingredients in industrial materials (think fertilizer, cleaning products, cement) with cleaner natural materials. The company crossed more than a billion dollars in valuation in less than 6 years since its founding and was on track to generate $100 million in revenue in 2022.
Misconception 2: All climate tech businesses are asset-heavy
Climate tech businesses have this image of being long-term, R&D investments that go well beyond the exit expectation of a typical VC fund. This might be true for companies focused on deep-tech products and services. These companies are essential given how they support emissions reduction, and an increasing number of funds have set up shop to cater to these specific segments. 
At the same time, there are also business models in the climate tech space that are asset-light or software-based where the exit period is more aligned with the typical VC fund life e.g. carbon accounting and analytics startups, carbon and ESG data management platforms, energy efficiency-as-a-service, etc.
This article puts into focus the tech VC perspective on climate tech investing, and how this vertical of opportunities is a class apart from the usual sectors VCs have invested in like ecommerce, SaaS, or digital finance. In particular, there are three areas of distinction:
Data-first

: Compared to the evolution of most forms of digital adoption which often begin with a use case for a digital product before data is leveraged to unlock a flywheel, climate tech innovations need to start with data accumulation (to generate transparency and trust) before an application layer can be widely adopted.

Government-first

: Compared to most other digital verticals where governments have only stepped in to develop policies when there is activity, government regulations and policies are fundamental to driving the adoption of solutions in climate tech.

Experience-first

: Compared to markets ripe for digitalization where the lack of proven models can favor founders unburdened by prior experience, founding teams with insights from previous experiences in B2B SaaS and/or corporate sustainability units have stronger founder-market fit and tend to perform better.
Data-first: You can't manage what you can't measure
In Asia, especially Southeast Asia, climate tech (or green tech) is still pretty nascent compared to our US and European counterparts. Before looking at carbon reduction solutions, it is important for businesses to first know where they stand. A key opportunity we see in our region today would be platforms that enable businesses and financial institutions to measure and manage their carbon health. There's a saying that goes – you can't manage what you can't measure. 
This will only become more pressing as more companies take on net-zero commitments and face regulatory pressures (and consumer pressure) to disclose their carbon footprint. Not only that, having accurate and timely data on carbon footprint will set the foundation for an entire suite of solutions to be built upon – reduction measures (e.g. transitioning to EVs, renewables, green materials), decarbonization (e.g. nature-based solutions to sequester carbon), trading of carbon credits and offsets. 
Carbon accounting startups have started to track Scope 1 and 2 emissions, but Scope 3 emissions will be increasingly important to tackle. These go farther out into the supply chain which is often complex and relatively 'unseen', yet account for a significant bulk of total emissions. This is especially pertinent for businesses in industrial manufacturing, logistics and real estate/infrastructure which are resource-intensive and have more complex supply chains. 
The long-term adoption of green tech solutions in the wider ecosystem will depend on the integrity and trustworthiness of the emissions data – in terms of showing the extent of severity of the issues being addressed, painting an accurate and timely picture of companies' carbon footprint, and where they stand relative to industry peers.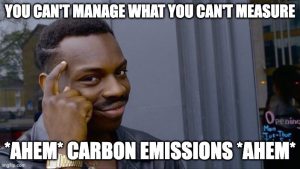 Government-first: How fast solutions in the climate space will be adopted will largely depend on legislation and regulation
When we look at internet technologies, it is often the case that innovation is adopted massively before regulation or even other institutional stakeholders step in (a familiar example is ride-hailing or even digital banking in emerging markets). But for climate tech, especially in the carbon management space, regulation and institutional adoption are critical foundations for solutions to take off at scale. 
How fast solutions in the climate space are adopted will largely depend on legislation and regulation. For example, the UK was the first G20 country to mandate TCFD disclosures for large companies by 2025. Unsurprisingly, UK's climate tech sector saw exponential growth in 2022 with total startup funding raised ($7.5 bn) doubling from 2021 figures. Closer to home, Singapore is currently the only country in Southeast Asia with a carbon tax regime. But it is expected that other major capitals, while still uncertain, are expected to soon follow suit. 
Greater involvement of governments in technology developments, while seemingly restrictive on most tech companies, could actually prove to be instrumental for climate tech to take off, especially for business models where institutional incentives are critical to driving adoption.
Public-listed companies, large local companies (LLCs), as well as financial institutions, will be the first to be impacted. Therefore, startups targeting this customer segment (who can and will pay) should see smoother commercial traction once regulations are in place.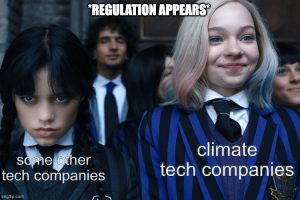 Experience-first: Starts with the right founder-market fit
Climate tech also has its demands in terms of founder-market fit. An ideal founder profile for climate tech, especially for B2B solutions, is one where they have developed a unique insight/ approach having worked in or with corporate sustainability teams. They have a good understanding of industry supply chains and how businesses manage climate risks. 
A case in point would be Watershed, which was founded by 3 ex-employees at Stripe who have experience running product, operations and engineering teams, and were involved in the creation of Stripe's negative emissions commitment and carbon removal fund. This allowed them to develop deep insight into the data and market issues faced by enterprises. In general, more experienced founders and CEOs with appropriate corporate/big tech stints would be better equipped and networked to sell B2B climate solutions. 
If you're a climate tech founder working on solutions to accelerate the transition to a greener future, chat with our resident climate tech observer Yang En Tan or shoot him an email.  
***