Editor's Note: This article was originally published by WIZ.AI CEO and Co-Founder Jennifer Zhang on their company blog and republished here with the company's permission.
Last 05 April 2023, WIZ.AI hosted a live webinar with four thought leaders in the artificial intelligence space. Moderated by Yusi Chen, Vice-President of GGV Capital, the hour-long session gathered insights from AI Singapore's Senior Director Leslie Teo, Advance Intelligence Group's Chief Technology Officer Zhen Wang, and WIZ.AI's Chairman and co-founder Jianfeng Lu. Below are highlights of the engaging discussion.
Trends in the finance industry and artificial intelligence
Global financial markets have seen a lot of ups and downs in recent weeks, but there are longstanding trends that affect the industry. For fintech companies, specifically, the challenge is how to remain relevant in the face of rapidly developing and newly emerging technology. Teo notes that fintech companies disrupted traditional banking, but a new breed of solutions may later unseat fintechs from their current position.
For Wang, regulatory compliance is the key thing financial institutions need to keep an eye on. Stricter and stricter policies are being formed around data privacy, data security, and data jurisdiction. These guardrails also affect the use of AI and language models. Private companies and financial institutions will likely develop and use their own language models instead of relying on those provided by big tech like Google Bard of OpenAI ChatGPT. Wang also sees greater use of open-sourced models like Meta's Llama and Stanford's Alpaca in the future. The development of proprietary models Bloomberg GPT will only accelerate.
Further in the AI front, Lu believes that AI transformation and digitalization accelerate as businesses become better positioned to adopt new solutions. The key hurdles to overcome in AI development are model accuracy, data security, and response times.
The development of AI-human collaboration
Lu continues to say that AI, ideally, should support human work. Currently, though, humans are still needed to support or guide AI. For instance, if a voice bot is not responding the way it should, human agents can jump in and take over the reins. Humans also oversee AI work, checking the output and annotating or updating the models as needed. WIZ.AI, specifically, uses a corrections or annotation system that enables its CX designers to quickly update its bots and fine-tune data accuracy.
Looking beyond today, Teo sees AI solutions becoming a teammate, not just a tool or enabler. The larger vision is for AI to become a real collaborator at work – contributing input much like a human colleague. As it stands, though, AI is still prone to errors, which limits its applications. Solutions like ChatGPT can impress users, but it's also known to give the wrong information while sounding believable. For now, the reliability of AI is still in question.
Where AI Singapore comes into the picture is enabling an ecosystem that develops AI technology. AI Singapore invests in research and builds research capability in the AI space. A lot of its work involves collaboration between research and industries such as healthcare. AI Singapore also invests in apprenticeship programs by training AI engineers and then deploying them to companies that provide 6-month internships. Finally, the organization also looks into AI governance and ethics. AI Singapore is largely a capacity-building entity for gov tech, healthcare, and defense industries.
One of the biggest projects AI Singapore invests in is the development of Southeast Asian large language models (LLM). AI Singapore wants to be the voice of Southeast Asia, ensuring that people in the region are properly represented in AI models. It works together with companies like WIZ.AI in developing these models to fill the gap that GPT-4 has left. (GPT-4 is mainly trained on data from Western countries like the United States and the European Union countries).
The future of AI and large language models
Looking into the future, Chen is bullish on vertical industry applications such as healthcare-specific or banking-specific language models. Where previously it was nearly impossible to build industry-specific LLMs, the availability of open-sourced LLMs has made this attainable. A key example is Bloomberg, which built BloombergGPT specifically for the investment industry.
For all four panelists, the future of AI looks bright. Teo notes how GPT-4 shows sparks of Artificial General Intelligence (AGI), which is the holy grail of AI developers. This has led to many industry leaders like Elon Musk declaring a need to pause the development of AI, Wang notes. However, Wang sees this call to pause as futile and counter-productive, because the technology will inevitably move forward. What is needed is for the government and regulators need to speed up the development of guardrails to modulate or manage the risks of AI. Teo agrees and emphasizes that the risks with AI largely lie with how humans use it.
Lu closes the session by pointing out the accelerating pace with which new developments come out. Previously, new versions come out every month, then maybe every two weeks. Now it is common to hear of updates happening weekly. This may seem like a threat to startup founders, who need to keep pace with everything that's happening. But ultimately, entrepreneurs need to keep their eye on the big picture – businesses exist to help humans live better, more productive lives. The role of the AI solutions provider is to help everyday people learn how to use AI and new technologies well.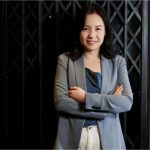 Jennifer Zhang is the CEO and co-founder of WIZ.AI. Prior to WIZ.AI, she has been a VC across both sides of the Pacific, as Managing Partner of GCC Capital in Beijing and General Partner of Cybernaut Zfounder Ventures. Before that she covered cross-border entrepreneurship resources and content. She received her Masters in Public Policy from the University of Southern California.
***