Highlights
"…​​unprecedented opportunities also mean there will be unprecedented risk. which is why we started to build our verification solutions. We believe [verification] is one of the most important infrastructure layers for most companies, especially to prevent risk."

– Rick Firnando, Verihubs CEO and co-founder

"At the beginning, we created Onluyen.vn as a personalization platform for students. So we apply AI and machine learning into the platform, basically trying to assess the student's competencies and student's behavior."

– Linh Dang Bao, Edmicro CEO and co-founder

"…because we make AI-as-software-as-a-service solutions. So instead of hiring a scientist, you can use our solution end-to-end, [and] scale such capability…"

– Chih-Han Yu, Appier CEO and co-founder

"So in fact, for the last two years, we've been EBITDA positive… we've been able to achieve it because of the fact that we don't need to spend as much as our competitors do…And it all has to do with the fact that it's machine-learning driven" –

Aaron Tan, Carro CEO and co-founder
As more and more consumers and businesses populate the highways of Southeast Asia's internet economy, there are definitely more opportunities for businesses to introduce tech solutions to address long-standing pain points in the market. But with increasing opportunities for digital solutions in the region, there are also three main issues that emerge.
First, increased online activity is making consumers and businesses more sophisticated in looking at tech solutions, and part of this is higher standards for personalized user experiences.
Second, it becomes increasingly important to maintain the integrity and scalability of these highways. More data and valuable transactions facilitated online make tech platforms more prone to misuse, and there are more gateways (or toll booths to use the highway analogy) that need to be constructed to ensure safe and secure user experiences.
Third, digitization still remains risky and costly because of the partnerships and regulatory hurdles that can really slow down the growth of smaller players.
All these point to the need for better infrastructure in Southeast Asia's internet economy, and we're not just talking about internet connectivity. Infrastructure here also refers to software that enables engineers and startups to build secure, efficient, and high-quality user experiences. 
As we've learned through conversations in Season 3 of On Call with Insignia, artificial intelligence is a valuable tool to rapidly build this infrastructure in Southeast Asia. Much of AI's application in the region that we've seen revolves around automating repetitive tasks that need to be scaled or tasks that require analyzing large amounts of data from various sources, from customer service operations and customer verification to credit scoring and personalization of content delivery. Plugging self-learning algorithms into the equation can allow these platforms to run faster, cater to more users, and be more secure.   
And with more and more data and digital assets being accumulated through activity in the region's internet economy, there's not just a need for better digital infrastructure to facilitate the flows of these assets and data but also the (lucrative) opportunity to leverage this existing data to make smarter predictions and level up decision-making across industries. This is what Appier CEO and co-founder Chih-Han Yu has seen from his 20 years in the AI industry, as he shares on our podcast. 
"So for our team and myself, we have been in the AI industry for almost 20 years. The first 10 years in academia, and the recent 10 years in the industry. Our vision is to make AI easy by making software intelligent because we've seen that all the software will become different versions of certain functionalities, but with intelligence, and we are just in the very beginning of this revolution. We believe that because all the software you can collect data and once that data has been collected, then we can actually use that data, and past operation metrics, then they predict about the future, how it can operate itself. This can be applied in many industries." 
In this piece we take a look at four companies: two unicorns, Southeast Asia's largest used car marketplace Carro and leading AI for business intelligence platform Appier, and two fast-emerging AI-powered startups, edtech Edmicro and fintech enabler Verihubs. We've had the pleasure of having their founder-CEOs on our show to talk about artificial intelligence and other deep tech they leverage to build the infrastructure for their own platforms and other startups and businesses across Southeast Asia. 
From the insights they have shared on our podcast, we curated a few case studies on the application of AI to power infrastructure layers for digital solutions, and identified 5 key insights on leveraging AI. 
AI can be leveraged to manage risk at "gateways" of user experience.

AI enables more personalized distribution of information and services.

Fishing for AI talent in Southeast Asia requires more than just a net. 

Prioritizing the right AI applications can lead to profitability.

It's all about improving user experience and building trust. 
AI can be leveraged to manage risk at "gateways" of user experiences
This is what Verihubs CEO and co-founder Rick Firnando shares on our podcast when asked about his views on fintech in Indonesia in the coming years.  
"I would say that FinTech will grow faster in Southeast Asia, because COVID basically is forcing us to go online. There will be a lot of unprecedented opportunities, especially with fintech…But we realized unprecedented opportunities also mean there will be unprecedented risk, which is why we started to build our verification solutions. We believe [verification] is one of the most important infrastructure layers for most companies, especially to prevent risk. [But] verification is just the tip of the iceberg in our pipeline. In the next five years, obviously we want to be the number one infrastructure layer for fintech companies in Southeast Asia." 
Verification or Know-Your-Customer (KYC) processes are a critical part of many online user experiences, not just with fintechs. And in order to verify information, traditionally businesses have had to use human-based verification and relied on directly building a portfolio of partnerships with the sources of information to cross-check with, from government agencies to banks and e-wallets. This does not only impact the fidelity of the user experience but also the ability of a tech platform to grow. 
Leveraging AI for faster verification methods like face recognition and liveness detection can radically speed up KYC for tech platforms. Having software also run this verification can also consolidate the various channels from which information used to safeguard accounts are sourced, so the platforms running the KYC can just integrate one application instead of partnering with multiple institutions directly.   
Rick explains the four solutions Verihubs offers, which primarily address these pain points. "We have four main solutions. The first one we call Veri-Identity. Basically that comprises many AI verification, such as face recognition, OCR, and liveness detection. The second one is Veri-Check, to help companies verify their customers using trusted local data sources, such as government ID databases, criminal record databases, bank fraud account checks, and many others. We also have Veri-Authentications, which authenticates phone numbers using omni-channel services, such as SMS, WhatsApp, and voice call. 
The last one we call Veri-Financial. It's to help companies access their customer's financial data. We're in the process of getting integrated with banks and unbanked accounts, and it can be used for many use cases, such as bank account verification, income verification, credit scores, and many others."
Verihubs Liveness Detection Demo
He then shares how this automation of KYC processes at scale can make a radical difference for businesses. 
"We actually had a meeting with one of our potential customers and they told us that they still did manual verification to verify their customers. I think back then they had 20 verificators and they needed to hire more as their number of users kept growing. And he said hiring more teams actually didn't solve any [of their] problems because it will just cost them a lot of money and time. In addition, their user experience was really bad, [because] typically the user would have to wait weeks to get verified to get into the platform. 
So when we implemented our solutions to them, I believe they said that they saved their [costs] by around 50% and their user experience was better than before since we helped verify their customers in under five seconds…So every single time fintech companies will access their financial accounts, we can offer them much more value [through] verification because it's going to help their users to connect their financial accounts in their fintech apps."
Granted, not all of Verihubs' solutions are AI-powered, but the underlying insight here is that AI can be leveraged to manage the risk tech platforms face when granting access to their products and services. And the risk runs both ways. End-users of these tech platforms like fintech apps also want to be able to access their accounts quickly and securely. 
Rick illustrates the POV from the end-user (e.g. fintech app user) perspective. "Whenever we talk to our users, we ask, "Hey, if a fintech app asks for your user and password for your banking account, would you fill it in?" I [would] say that most of them are reluctant to fill in their username and password. And this is why we built our verification [solution] at first. Because every single time they're going to jump into their bank account, we could verify them and make them feel secure."
Rick actually connected with co-founder and CTO Williem Williem to start Verihubs because of an incident he personally experienced with his family because of the vulnerabilities of these types of transactions, which have persisted in their offline form and still have significant risk of happening even in online alternatives.
"The first time we started Verihubs I think it was back in 2019 when I was in my very small hometown called Jambi…I was in Jambi with my family. To keep it short, at that time we were scanned by a […] financial lender. So my sister's ID card was misused to lend some money. It almost cost us around US$50K, but luckily we managed to solve this problem with only US$500, which is still quite a lot for us.
At that very specific moment, I realized this is a huge problem because it could happen to anybody. So I went back to Jakarta and I reconnected with Williem, who I met before. He [was] building face recognition and many AI verification [technologies]. So I told him about my family's [experience] and Williem literally had a very great idea at that time to verify customers using the tech stack he was building that has the ability to tell if a face capture from your camera phone is real or fake. It's basically [used] to prevent fraud as I experienced before."
This theme of addressing risk management goes beyond verification for KYC, and extends to other "gateways" in user experiences, where data has to be cross-checked to open up access to accounts or services, like authentication for pricing or credit checks. Carro leverages AI and machine learning to enable faster and fairer pricing of the used cars that get traded-in to their platform as well as to better understand the "quality" of their customers. 
As Carro CEO and co-founder Aaron Tan explains on our podcast, "Now you look deeper into even trade-ins that are our core bread-and-butter of the business. We are able to take your car in instantly, given any car, make, model, and details of the vehicle, we can give you the pricing of the cars instantly. And that effectively means that we are able to trade in your cars in as little as a few seconds and then pay you off. Now, if you look at where machine learning or AI comes into play, that has got to do with pricing algorithms — how do we ensure that the pricing of the cars is accurate in real-time?
…The truth is that a lot of it is done internally, so in-house we have credit systems that we have built using machine learning. We build credit models that actually allow us to understand what is the quality of the customers? 
Now assuming your credit is okay, then the question is, "How can we get more accurate in terms of, "Do we know the car you are selling? Is it safe? Is it a good quality car? Has the car been flooded, has the car been tampered with?"" And a lot of what we do today really is to diagnose the cars, using machine learning. Let me give you some examples. 
So today, if you're a customer, whenever you submit the vehicles, actually the machines will look through the pictures that you uploaded, and then in real-time, be able to detect all the scratches and dents and any cosmetic imperfections of the vehicle. And we do this entirely through machine-trained models. And similarly, we make use of magnetic resonance techniques — basically sound, to actually further tell us what's happening in the vehicle." 
Both Verihubs and Carro leverage AI, especially computer vision (in the case of Verihubs human faces, and in the case of Carro, car photos), to manage risk posed when users try to access online products and services, from bank accounts on fintech apps to used car trade-ins and credit. Carro does it specifically to enable its marketplace at scale, which covers several markets across the region and Verihubs does it for fintechs and financial institutions in Indonesia.  
"…​​unprecedented opportunities also mean there will be unprecedented risk. which is why we started to build our verification solutions. We believe [verification] is one of the most important infrastructure layers for most companies, especially to prevent risk." – Rick Firnando, Verihubs CEO and co-founder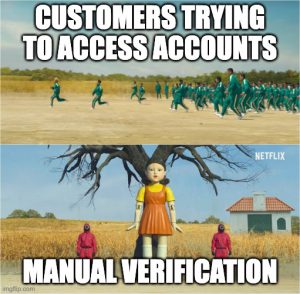 AI enables more personalized distribution of information and services
Apart from handling risk in accessing products and services, AI can also be used to automate the distribution of information and services and making it more personalized. In Season 1 of On Call with Insignia, we talked to LOGIVAN's CEO and founder Linh Pham, about how they built an algorithm based on transactions on their trucking marketplace to power more accurate pricing and selection "personalized" to the truckers and shippers using their platform. 
When it comes to enabling distribution, we can consider three types or levels of interaction: one-to-one, one-to-many, and many-to-many.
One-to-one interactions: Conversational AI for Customer Service
For one-to-one interactions, a common application would be in customer service or customer success where conversational AI could be used to meet customer service needs at scale.  
Carro's Aaron Tan shares the benefits of having partnered with conversational voice AI company WIZ.AI to launch AI-powered customer service talkbots for their platform. 
"Most recently we just announced that we have been doing a lot of these outbound and inbound calls using AI. And what does that mean? That effectively means that when a customer calls us or when we call a customer, now instead of hiring an army of people for customer service or sales, we actually use machines to do that. So the machines will be able to understand and then extrapolate the question that you want to ask, and then respond to you. And the whole process just doesn't sound like a machine talking to you. It really sounds like a human talking. And that's how we want to change the whole sales process right now. Imagine how scalable that business is." 
Of course there's the consideration of how high-fidelity the conversational AI technology is — does it still sound like a machine or an actual human talking? And that's where companies like WIZ.AI come in to exceed these customer expectations. 
One-to-many interactions: AI and machine learning for a Personalized Self-Study Experience
For one-to-many interactions, where AI helps a platform (one) process and distribute services to its customers (many) in a way that radically improves user experience — in this case with Edmicro, personalizing the content delivery to the learning gaps of the students using their platform. 
Edmicro CEO and co-founder Linh Dang Bao shares on our podcast how their company's platform Onluyen.vn does exactly that. "​​At the beginning we created Onluyen.vn as a personalization platform for students. So we apply AI and machine learning into the platform, basically trying to assess the student's competencies and student's behavior. And after that, we try to detect where the gaps are in the student's knowledge and the student's learning and try to recommend courses for the gaps. That's the first target for Onluyen, to build an affordable environment for self-study.
Secondly, Onluyen is a standardized environment for assessment for schools. From the student perspective, it's the perfect environment for self-study on subjects that the student has to cover in school, ranging from mathematics, physics, chemistry to programming or civic education.
In the end students can find their own subjects broken down into very small levels of content. We call it bite-sized content so that the student can do self-study anytime, anywhere. And each day, a student just has to study 10 to 15 minutes on Onluyen.vn and then we can build a complete competency map for that student that is indicating what are the strengths and what are the weaknesses of the student in each and every subject. That is feedback for the student's learning and also feedback to the teachers, so that the whole ecosystem will be able to basically operate around what we call the personalized learning roadmap for that student."
Many-to-many interactions: Building the autopilot of digital marketing
For many-to-many interactions, we consider the use case of digital marketing, where you have many data sources and customer engagement channels interacting with many users, and AI is leveraged to consolidate and automate the data processing and analysis of digital marketers. 
This is the bread-and-butter of Appier, which has been developing AI solutions for digital marketing since 2012. As you'll read in Chih-Han Yu's description on our podcast of how their platform progressed to cover acquisition, retention, and engagement of customers, the application of AI incorporates some of the earlier examples we cited, including conversational AI and the personalization of content distribution, to create an omni-channel engine for marketing. 
"We started from consumer marketing and went along the top of the funnel. We helped our customers to acquire the most valuable users autonomously rather than manually. Secondly, we help our customers to retain those users effortlessly through extreme personalization. After you have a loyal customer, we help them to become a paying customer by finding the right timing to give the right incentive. After the company has accumulated for the first three stages, that data is the most valuable asset that they have accumulated and we'll help them to utilize that data and predict the future.
These four stages became the four product lines in Appier. We become an end-to-end that from the very beginning acquire variable customers, and then focus on the future, how you want to interact with these customers and we're the end-to-end solution for that. This is actually just the very beginning. And then we think that there are a lot of places that we can further enhance with this communication channel between business and their customers.
One is the funnel process. Customers are also everywhere in addition to traditional web and apps where they interact with businesses. First is that they started from offline then moved to online and they moved to web, that then became apps. Now customers also engage with a lot of brands and e-commerce and a lot of stores actually on messengers.
They interact by talking to their friends, and then they can also perform a lot of inquiries on official messengers. That's where we think that eventually, these can be also powerful channels for these businesses to engage with their customers. So in addition to web and app, which traditionally we have been strong with, then we have the addition of conversational channel messengers to be the next element. 
Then we can become an omnichannel and be able to help our customers and those businesses leverage and utilize all the data across all the channels, and then be able to know the customer's intent and also how to serve their customers even better. So that's our original motivation and how we think about business and eventually leads to our recent acquisition. I think it's a very natural expansion because everyday, we are always thinking how we can further help to automate and also even make it even better for businesses to communicate with their end-users. 
I think there are a few places that we are very insistent about. In addition to the acquisition that you just mentioned, we also launched one product called Iceberg, your AI experts. So we are actually helping to allow digital marketing professionals to save a lot of manual work. In the past, we were seeing that digital marketing is at the forefront in terms of technology, but actually, gradually it has become complicated, and digital marketing has become the new labor-intensive work because of a lot of these digital marketing managers have to go into the office, operate a lot of different platforms, and these products can be automated. 
These also come from our internal innovation that after we accumulate a lot of data from our customers, they can actually help to build AI engines that would be able to pass operation data and then help our customers to automate these decisions, what we call the "autopilot of digital marketing". You can just set a goal and then autopilot is done and, or it can actually augment pilots — it can make suggestions and you make decisions. There are two modes. It's very similar to how self-driving cars work. A lot of the technology we use is like that."
Whether it's for customer service, personalization delivery of content or data, or a full-stack engine automating, at the heart of leveraging AI for distribution is to be able to (1) deliver labor-intensive services at scale, (2) create feedback loops within the platform that learns from the customers (i.e. customer-driven growth), and (3) deliver problem-solving value to their customers. 
"At the beginning, we created Onluyen.vn as a personalization platform for students. So we apply AI and machine learning into the platform, basically trying to assess the student's competencies and student's behavior." – Linh Dang Bao, Edmicro CEO and co-founder

Fishing for AI talent in Southeast Asia requires more than just a net 
The rapid digitalization of products and services and their distribution channels in Southeast Asia has also raised the demand for AI talent in the region, which has historically been slow to catch up to the demand for AI-powered solutions. 
Appier's Chih-Han Yu shares on our podcast that while market understanding and adoption of AI has changed over the past decade due to the accumulation of digital assets and data, which AI uses to learn, the talent pool of AI scientists has not caught up as fast. 
"I remember around the time [I met Yinglan] back in 2013, when we presented to a customer, we were still debating whether we should put AI or how would develop our product in a slide, because people's awareness at the time was so low to the extent that we were even debating whether we even have to put even one slide in our deck. As time went by, people first approached digital after they had done digital transformation and they have accumulated a valuable asset — that's data — and after having the data they wanted to translate that into a long-term competitive advantage, that's where Appier can help.
So in a lot of countries in the industry in Asia, we are still in the stage of figuring out how we can translate data into a long-term competitive advantage. Actually, in Asia, there's one very interesting metric that compares America and Europe and Asia. The number of AI scientists versus population in Asia is the lowest to a degree that is far behind America and Europe. At the same time the digital economy growth in Asia is so strong. We accumulate even more digital assets than any other continent. So how do we solve this?"
We see there are different approaches to solve this gap. Carro strategically invested in hiring top academic talent to level up their engineering team's capabilities in artificial intelligence and other forms of deep tech that would be necessary for Carro's digital infrastructure.   
"A lot of what we have done over the last year is really to double down, triple down into our spending in technology, especially in areas such as AI and machine learning. And more importantly, even within our own people, making sure that we brought on the right people into the team. Recently, we just brought on a nuclear scientist to really help lead and supercharge our efforts in data science, computer vision, magnetic resonance field."
Verihubs also had a similar approach, though instead of bringing in top academic talent, their co-founder and CTO Williem Williem already brought that to the table. 
As Rick explains on our podcast, "When we talk about AI, I always consult with Williem because he took his PhD in computer vision, and he's an AI guy. And we believe that, even though AI currently in Asia is rising, the AI talent in Indonesia, I could say, is still insufficient. It is pretty challenging to attract high-quality talent. So our approach is to nurture the talent by ourselves. Fortunately Williem is an experienced educator and researcher, so he knows really well how to nurture [talent]."
Having company leaders who are well-versed in AI technology means they are able to hire or even nurture AI talent within the company, as in the case of Verihubs. And the amount which a company invests in hiring and developing talent also depends on how critical this AI advantage is for the product vis-a-vis competitors. 
For Aaron, focusing on building a lean team of engineers is definitely on the top of the priority list, given the nature of Carro as a tech company and platform.
As he shares on our podcast, "We really use AI [and] machine learning in every facade of the customer experience when you're trying to buy or sell the vehicle. Whether or not you're trying to buy a car from us, whether or not we are trying to sell a car to them or take their car in as trade-in, machine learning or AI is really throughout the entire phase of what we do.
[So] as a tech company that is really driven by machine learning, and data science, we really want that number to be as low as possible. In fact, I always tell my investors, "If I can one-third that number — so basically go from 1000 people to 300 people — that'd be ideal." If I have a choice, half the company, if not more, should be data scientists, programmers, engineers, and we want this to be a platform whereby it's scalable using machine learning and tech. And we think by far we definitely have the best team and the best pedigree to be able to achieve with something like this."
For companies where growing in-house AI capability might be too costly, Appier comes in as an AI-as-a-service platform, augmenting their "engine" to the company's data science teams.  
As Chih-Han explains on our podcast, "That's where we think that Appier can come in, because we make AI-as-software-as-a-service solutions. So instead of hiring a scientist, you can use our solution end-to-end, scale such capability, but at the same time, using our product, our customer can actually leverage and utilize cutting-edge, world-class solutions that deliver results that can actually not only make it possible for a lot of companies to solve challenging problems they might encounter but at the same time largely decrease the cost of hiring and building their own data science team, which is also great because at the same time some of our customers, they have their own data science team, but they use our products. That also could also work in a harmonized way too."
So that, actually, makes Asia so unique as an opportunity for going forward. In addition to China, I think Japan and Korea are at the forefront of Asia's digital economy. In Southeast Asia, it's also emerging and it is growing so fast. So we are very excited about this opportunity. We think that starting from digital-first companies,  eventually every company will adopt such solutions like ours, so that they can translate their most important asset into a long-term competitive advantage." 
Regardless of the approach, while AI talent in the region is still early compared to other markets,  there are opportunities to nurture that talent through the right leadership in companies, working with academics, or augmenting the capabilities of organizations with AI-powered engines. 
"…because we make AI-as-software-as-a-service solutions. So instead of hiring a scientist, you can use our solution end-to-end, [and] scale such capability…" – Chih-Han Yu, Appier CEO and co-founder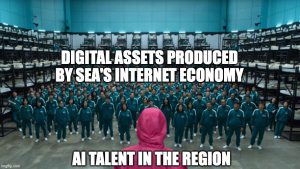 Prioritizing the right AI applications can lead to profitability
With the many ways AI can be applied in tech platforms, and say the team already has enough people onboard to lead its development, the question then becomes, "In which use cases or applications do you invest time and effort into integrating AI? How should a company think of prioritization?"
For Aaron, it boils down to the bottom-line and achieving profitability. As he explains on our podcast using the example of applying computer vision to assessing car quality for trade-ins or maintenance, AI is able to do this by reducing inefficiencies or variability, which then saves time, which in turn results in better margins. 
"For me, a lot of it involves asking ourselves, "What is the business telling me?" Actually, AI for us is less money-making in that sense versus cost-saving. And so there's a bit of both, but let me explain. 
So one of the things that we prioritize a lot is computer vision because we realized very quickly that our mechanics would take somewhere north of 30 to 45 minutes to literally inspect every car. So the question for us is, "Hey, how can we lower the time taken on this, by just getting anybody literally to upload the pictures of the vehicles, and then the machine can immediately tell you what the exact imperfections of the cars are in seconds?" And by one full sweep of doing this, we get to wipe out, first of all, the need to hire mechanics as and when we expand. 
And by the way, it's not super expensive to hire mechanics. And that's not the issue. The issue is about standardized reports? So we realized very quickly, if you run a scaled business like ours, you realize very quickly that, if you have humans trying to do inspections, that the humans might have a bad day. They might have quarreled with the wife the day before. And then, as a result, the inspection might deviate a lot, inspector-to-inspector, day-to-day. 
Well, the machines don't need that. Machines don't really have any emotions and whatever they have to take care of. So there's a lot of this byproduct of using lesser people. But what's more interesting is to upgrade the skillsets of the people. Now, instead of taking the pictures and being that operation system, you enable the machines and then the machines will help you do that automatically.
[So] how do we prioritize? At the end of the day, it really is a business case. So in this case, quite clearly, if we can get an inspection time from 45 minutes down to 45 seconds, we should definitely do something here. It's a 100x difference. Or even things like machine learning [and] pricing algorithms. We spent a lot of time understanding exactly how much you should buy a car for because that has a lot to do with our top line and bottom line. And today we remain the only automotive marketplace, transactional ones, at least, that is at scale and profitable.
So in fact, for the last two years, we've been EBITDA positive. And I'm always glad to say that, we've been able to achieve it because of the fact that we don't need to spend as much as our competitors do. And I have been able to do this at a very good pace. And it all has to do with the fact that it's machine-learning driven, but there you go. It's primarily two things. Number one, I would say again, "What is the business case? What's the cost savings?" Now if it's not cost-saving, then the question is as simple as, "How much money would that make me?" That's how we prioritize it, and if there's a dollar value attached with it."
While AI helps a tech platform scale the capabilities of its products and services, it can also contribute to healthier finances when its application makes that "100x" difference in costs. When leveraged effectively, AI can help a venture-backed startup achieve the elusive combination of scale and profitability. 
"So in fact, for the last two years, we've been EBITDA positive… we've been able to achieve it because of the fact that we don't need to spend as much as our competitors do…And it all has to do with the fact that it's machine-learning driven" – Aaron Tan, Carro CEO and co-founder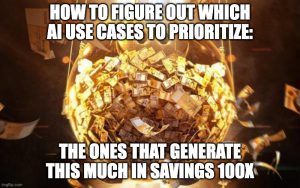 It's all about improving user experience and building trust. 
Across all the insights we've covered thus far, a resounding theme has been the impact of AI on the user experience. At the end of the day, no matter how advanced the artificial intelligence algorithm or engine is, if it doesn't actually improve the user experience or solve the pain points the product or service has been trying to address, then it's not worth the trouble. 
Rick emphasizes this in the context of what Verihubs learned having recently graduated from Y Combinator's 2021 Summer Cohort as the first Indonesian AI company to join the program. "Joining Y-Combinator was a life-changing moment, but more importantly, when we joined Y Combinator, we always learned something very important every week. But the most important lesson for us is that it's not about how advanced [our] AI technology is, but it's about how your AI technology solves the problem, especially the most painful problem for customers. And it's okay to not have a perfect solution as long as it solves the problem at the moment. And of course, we believe that we always need to iterate our product from time to time, so we can give better service to our customers."
Ensuring the AI actually solves the problem for customers means paying attention to reliability, which is something our enterprise and B2B founders also talk about in another best practices article. This is because infrastructure provider startups will more often than not deal with businesses, and so reliability and security are top concerns for product adoption. 
As Rick shares on our podcast, these considerations in driving adoption for Verihubs' solutions are important in building trust and credibility with their customers and partners. "The biggest challenge we've faced was during the first time we launched the product, and the biggest challenge was building trust. It's not only happened to us, but also many other software-as-a-service companies in the B2B landscape. And getting your first customer is really hard.
The way we tackle these challenges was we made sure our product solves our customer's problems. This is the first one, and we really paid attention to our product reliability because [we're] in B2B market sales; your product has to be reliable. And the last one was getting their credibility, which is why we dealt with banks and fintechs in the first place. Having big banks as our customers definitely will help us to get more customers because everyone knows earning trust from banks is not that easy."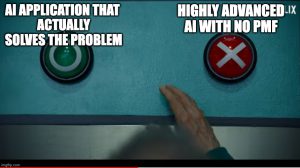 AI is nothing new, even in Southeast Asia. But as Southeast Asia's internet economy continues to expand with more types of products and services available digitally, and consumers and businesses enrich the highways of the internet with more digital assets, AI becomes a more important tool to meet the infrastructure needs of the companies taking up real estate and creating value on the internet. And while AI applications may not be able to solve every problem, they can be invaluable to the company that knows what types of problems it can effectively solve. 
Paulo Joquiño is a writer and content producer for tech companies, and co-author of the book Navigating ASEANnovation. He is currently Editor of Insignia Business Review, the official publication of Insignia Ventures Partners, and senior content strategist for the venture capital firm, where he started right after graduation. As a university student, he took up multiple work opportunities in content and marketing for startups in Asia. These included interning as an associate at G3 Partners, a Seoul-based marketing agency for tech startups, running tech community engagements at coworking space and business community, ASPACE Philippines, and interning at workspace marketplace FlySpaces. He graduated with a BS Management Engineering at Ateneo de Manila University in 2019.
***